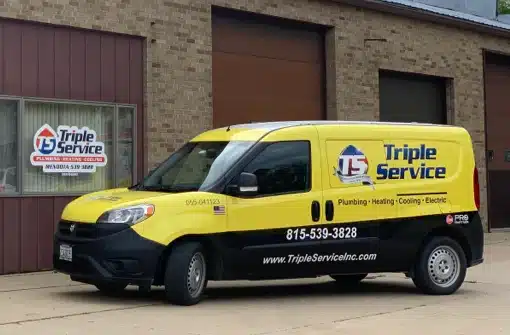 Keeping You Warm This Winter
When you need heating service in Mendota, IL or the surrounding area, trust Triple Service Inc. Our team of skilled Mendota HVAC technicians are here to help with all of your heating needs, from heating repair to replacement. We have experience working on a full range of heating systems, including furnaces, boilers, heat pumps and more.
When you rely on us for Mendota heating service, we'll be there ASAP and work with you to find the best solution for your home and budget. Call us today!
Book Online
Book Online
Why Choose Triple Service
Expert advice from professional, licensed & certified technicians
Flexible scheduling - ask about same-day service
Upfront pricing - you'll never pay more than you're quoted
Mendota Heating Services You Can Count On
Triple Service employs highly-trained and certified heating technicians to give you the highest quality experience no matter what type of work you need to have done. Reach out to us when you need any of the Mendota heating services below:
Heating Repair
Heating Installation
Heating Maintenance
Furnace Repair, Installation & Maintenance
Heat Pump Repair, Installation & Maintenance
Ductless Mini Split Repair, Installation & Maintenance
Smart Thermostats
Book Online
Book Online

Our Mendota, IL Heating Services
What to Expect from Our Mendota Heating Services
Our helpful professionals will visit your home, identify any issues with your heating in Mendota or the surrounding area, and then deliver a thorough report with recommendations for what to do next. We always provide upfront pricing and the costs involved with the service before any work is begun.
We take pleasure in being a reputable local provider of heating services in Mendota and beyond. On every heating system we work on, whether it be for installation, maintenance, or repair, we are committed to ensuring complete customer satisfaction!
Mendota Heater Repair
Is your heater blowing cold air or not working at all? Call Triple Service for heating repair in Mendota! We'll talk to you about what's been going on with your heater and then fully inspect your heating system. Once we discover the problem, we'll discuss possible solutions with you and then get to work right away. Before you know it, you'll be warm at home again!
Mendota Heating Maintenance
As seasons change in the Mendota, IL area, it may be time for a regular heater tune-up to ensure your home heating system is functioning correctly and as efficiently as possible. Your Triple Service Mendota heating maintenance technician will thoroughly inspect your system, cleaning components and performing preventative tune up tasks. We'll also let you know if we find anything that needs to be repaired.
Mendota Heating Installation
Looking to install or replace your Mendota heating system? We have a team of professionals designated for that! They'll help you find the best new heating system for you based on your needs, preferences and budget. Then we'll install it and make sure it's working exactly the way you need it to. Contact us today to see what flexible financing options we provide for new heating installation in Mendota!
Mendota Furnaces
One of the most common types of Mendota heating systems is the furnace, and our heating contractors are experts in furnace repair, upkeep, and installation. No matter if you have a gas, electric, or oil furnace, our team has the expertise to keep it working efficiently all winter!
Mendota Boilers
We also offer comprehensive boiler service in Mendota, IL and the surrounding area. No matter what you need to have done with your boiler, we'll work hard to get you back to full functionality fast. Our boiler experts are highly trained and exceptionally skilled, so you'll be warm again at home before you know it!
Mendota Heat Pumps
Heat pumps are a highly effective and economical way to heat your Mendota-area home since they can provide both heating and cooling from a single unit. We can perform installation, maintenance, and repair on any type of heat pump, and we'll always make sure your Mendota heat pump is working the way you need it to!
Your Local Mendota Heating Experts
Triple Service is the best option when you need heating services in Mendota, IL and the surrounding area. Our professional heating team is dedicated to taking care of any heating issue you may have, big or small! We value your happiness and will work hard to exceed your expectations.  Contact us now to see the difference our superior Mendota heating services can make in your home!
Book Online
Book Online
Serving Families in the Greater Mendota Area
All Service Areas