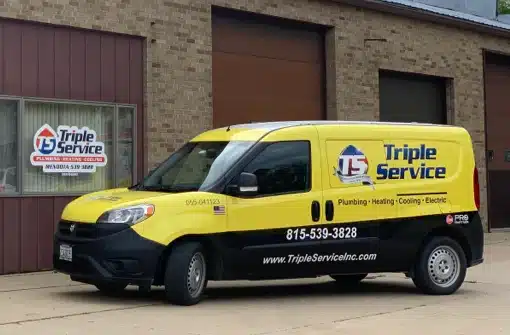 Here for All of Your Furnace Repair Needs
At Triple Service, our primary objective is to deliver top-notch furnace repair in Mendota, IL and beyond. We are committed to providing exceptional furnace repair service while going above and beyond to ensure your home remains warm and comfortable.
If your furnace suddenly malfunctions, fails to operate correctly, or doesn't heat your home the way you need it to, reach out to us for furnace repair in Mendota! Our team of  specialists will promptly visit your home and expedite a solution. Contact us today for all your furnace repair needs!
Book Online
Book Online
Why Choose Triple Service
Expert advice from professional, licensed & certified technicians
Flexible scheduling - ask about same-day service
Upfront pricing - you'll never pay more than you're quoted
Common Furnace Problems in Mendota
Our team of furnace experts is well-equipped to address any furnace issues you encounter in Mendota or the surrounding area. Some of the most common furnace repair problems we see include:
Clogged air filters
Pilot lights that won't ignite or stay lit
Broken blower fans
Lack of power to the furnace
Malfunctioning thermostats
Book Online
Book Online

Our Mendota Heating Services
Our Mendota Furnace Repair Process
If you suspect furnace issues in Mendota, IL, reach out to us promptly to prevent further complications. Our experienced technicians are well-versed in various heating systems, including furnaces and heat pumps.
When you contact us to kickstart your Mendota furnace repair, our courteous team will connect you with an HVAC specialist who will schedule a convenient service appointment. Our punctual furnace repair experts will gather information about your heating concerns, gaining valuable insights into the problem.
Following a thorough assessment, they'll inspect your furnace part by part, identify the issue, and explain the repair process. With your approval, they'll start the repair, keeping you informed about progress and estimated completion time.
After completing your furnace repair in Mendota, we'll conduct rigorous testing for your peace of mind, allowing you to return to your regular schedule!
Signs You Need Furnace Repair in Mendota, IL
Even when your home furnace is still heating your home, there are common warning signs Triple Service knows to look for that indicate your furnace is close to breaking down. If you notice any of the following issues, it's time to call the professionals at Triple Service for a broken furnace repair:
Is Your Furnace On But Not Producing Enough Heat?
Is your Mendota furnace on but not giving off enough heat on a cold Illinois winter's day? Your furnace may have a clogged, dirty air filter, which is one of the main causes of a furnace breakdown.
Is Your Furnace Making Drastic Temperature Changes or Not Heating at All?
Your gas furnace could be experiencing a thermostat failure or malfunction. A faulty thermostat can lead to fan, pilot light, power, or gas issues & ruin the comfort of your home. Restore comfort levels by giving Triple Service Inc a call to get a furnace repair diagnostic before any work is done.
Furnaces in Mendota are Prone to Cracking During Seasonal Temperature Changes
Over time, changes in temperature may cause your gas furnace's heat exchanger to crack, a potentially very dangerous situation, as cracks can allow carbon monoxide to seep into your home. Call a Triple Service Inc furnace expert right away to have your home's furnace professionally diagnosed & repaired.
Experiencing Pilot Light or Electric Ignition Issues?
If your furnace isn't turning on at all, a common explanation is an issue with your pilot light or electronic ignition. Older furnace heating systems with a pilot light that continues to go out may seem like a small problem, but it can actually be wasting a lot of money and cause an increase on your monthly gas bill. As the weather gets colder, a flickering pilot light will make your furnace work harder and cause unnecessary wear & tear, and a much more costly bill.
Schedule Quick & Reliable Mendota Furnace Repair Near You
Reach out to Triple Service today for all your needs surrounding furnace repair in Mendota. We are committed to promptly addressing your concerns, identifying the issue, and resolving it efficiently. Our goal is to restore your warmth and comfort as quickly as possible through our expert furnace repair services!
Book Online
Book Online
Gas Furnace Repair
These are the most common type of furnace in residential heating systems. They use natural gas or propane as fuel to generate heat. Gas furnaces in Mendota, IL are known for their efficiency and cost-effectiveness.
Electric Furnace Repair
Electric furnaces use electricity as their energy source to produce heat. They are typically less efficient and more expensive to operate compared to gas furnaces but can be a good option in areas where natural gas is not readily available.
Propane Furnace Repair
Propane furnaces in Mendota are similar to natural gas furnaces but use propane gas as the fuel source. They are often used in areas where natural gas is not accessible.
Multi-Fuel Furnace Repair
These Mendota furnaces can burn a variety of fuels, such as wood, coal, and oil. They offer versatility but may require more maintenance and expertise to operate.
Serving Families in the Greater Mendota Area
All Service Areas