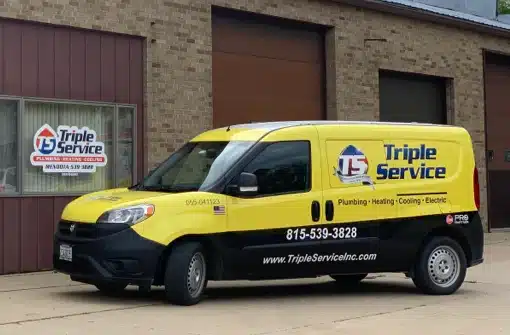 Your Boiler Repair Experts
Are you looking for someone to repair your boiler in Mendota, IL? You've come to the right place! Triple Service is one of the only heating contractors in Mendota with the experience, knowledge and skill required to fix any boiler issue.
So when your boiler goes out or is giving you trouble, simply reach out to our team. We'll send someone out to you fast, assess the problem, find the solution you need, and implement it right away so you can be warm at home again. Call us for quick and reliable Mendota boiler repair!
Book Online
Book Online
Why Choose Triple Service
Expert advice from professional, licensed & certified technicians
Flexible scheduling - ask about same-day service
Upfront pricing - you'll never pay more than you're quoted
Do I Need Boiler Repair in Mendota Right Now?
We hear from a lot of people who aren't sure if they need a boiler repair in Mendota right away, or if the problem isn't serious enough to warrant bringing in a professional. We don't blame you! Some boiler issues don't cause heating problems for a while and others seem like things you can live with. Continue reading or simply give us a call to learn about some boiler issues we can fix for you today!
Book Online
Book Online

Our Mendota Heating Services
Common Signs You Need Boiler Repair
Even when your boiler is still heating your home, there are common warning signs Triple Service Inc knows to look for. If you notice any of the following, a problem with your boiler may be present, and it's time to call the professionals at Triple Service for a broken boiler repair.
No Hot Water Coming from Your Boiler
If your home has no hot water or no heat coming from your radiators, you're likely in need of a boiler repair. A common reason for no hot water is low pressure within your boiler. Check the pressure gauge on your home's boiler. If it is below 1, it's time to call the experts at Triple Service Inc! You may have a broken part or valve in your boiler that needs repair.
Your Boiler is On, But Not Heating Consistently
Is your home boiler unit on, but not giving off enough heat on a cold Illinois winter's day? The water is likely not circulating properly, and thus can't heat your home consistently.
Your Home's Utility Bill Unusually High
Your bills are naturally going to increase during the winter months, but if you're noticing that your bills are higher than last year's or more than what your neighbors are paying, there may be an issue. Boiler units in the process of breaking down will work less efficiently & leave a dramatic increase on your monthly energy bill. Schedule your boiler repair cost estimation with Triple Service Inc today!
Your Boiler is Cracked or Leaking
Over time, this may cause your boiler to crack, leading to leaks. Leaks may seem easy to ignore but can quickly lead to property damage. If there isn't enough water in your boiler, its effectiveness & efficiency drastically decreases. Call a Triple Service Inc boiler expert right away to have your home's furnace professionally diagnosed & repaired.
Foul Odors Surrounding Your Boiler
If unpleasant smells surround your boiler, it may be a gas leak, which can be very dangerous. It's best to call the HVAC experts at Triple Service Inc right away. If not gas, unpleasant smells can indicate a problem with your ventilation system, which might also require a boiler repair team to come in & investigate.
Our Mendota Boiler Repair Process
Start your boiler repair in Mendota by giving us a call at Triple Service. We'll set you up with a boiler professional in your area, make sure we find a time that's convenient for you, and make the appointment.
Your Mendota boiler repair technician will get to you on time, make you feel comfortable right away, and make sure that they understand exactly why you've called for a boiler repair in Mendota. With that knowledge, your technician will get right to work. They'll test each part of your boiler until they find what isn't working.
Once we know what's broken, we know what we need to do to fix the problem. We'll talk to you about it so you know what to expect. Then we'll get to work and keep working until your boiler is producing the cold air you need once again.
We'll test your boiler repair before we go and invite you to test it, too. If you have any questions, concerns, or you just aren't sure, we'll stay until you're completely happy with the work we've done on your boiler.
Get Quick & Reliable Boiler Repair Today!
No matter the problem with your boiler, our Mendota boiler repair technicians can solve it. Reach out to us whenever you need help with your boiler!
Book Online
Book Online
Serving Families in the Greater Mendota Area
All Service Areas