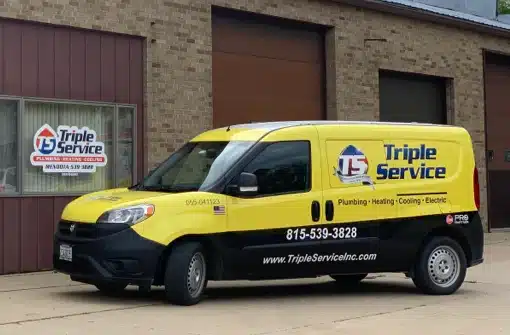 Here for All of Your Air Duct Repair Needs
When you need Air Duct services, trust the experts at Triple Service Inc. Our technicians have the skills, knowledge, and tools to fix most Air Duct problems on the spot.
When your Triple Service Inc technician arrives at your home they will explain all of your options before starting repairs so you can make informed decisions before any work begins. We service and repair most brands of equipment, so you can trust us to perform a professional Air Duct job.
We're not happy until you're happy.
Book Online
Book Online
Why Choose Triple Service
Expert advice from professional, licensed & certified technicians
Flexible scheduling, - ask about same-day service!
Upfront pricing - you'll never pay more than you're quoted
Get the High-Quality Air Duct Repair Experts That You Deserve!
We offer a full line of installation, indoor air qualty assessment, air duct cleaning, air duct sealing & repair that your home air duct system may require, no matter the problem or time of year. You can count on the trusted professionals at Triple Service Inc for exceptional service & quality craftsmanship.
Book Online
Book Online

Our Mendota, IL Indoor Air Quality Services
What are the Common Signs of Ductwork in Need of Repair?
It is important to maintain the ductwork in your home to avoid costly repairs. Having routine inspections will help prevent your heating & cooling systems from using more energy than necessary. If you're noticing any of the following issues, you are likely in need of air duct repair service from Triple Service Inc:
Loud Noises Coming from Your Ductwork – If you are hearing loud popping or knocking noises coming from your air ducts, this is most likely the result of uneven airflow & pressure. As the air is pushed through the air ducts of your home, it can cause the ducts to expand or "pop." This may be a sign that your ductwork is damaged, and you should call Triple Service Inc to come to your home today.
Increased Utility Costs Without Using More Energy – Have you noticed that your heating & cooling bills have increased, even though you haven't been running your systems more frequently? If this is the case, there is a possibility that your air ducts have been damaged and the air your systems are trying to push through the ductwork are leaking. Contact the local air duct repair professionals today!
Excess Dust in Your Home – Noticing that dust accumulates on your home's surfaces quickly? This could be happening due to damaged air ducts or an overdue air duct cleaning service. To find the best solution, contact an air duct repair expert at Triple Service Inc today.
Abnormal Sneezing & Coughing Indoors – It is common that when you have poor air quality in your home, you will notice yourself sneezing or coughing more frequently. This is a result of excess dust & allergens that are being released into the air from faulty ductwork. If you are experiencing any symptoms of poor indoor air quality, you may need air duct repair service from Triple Service Inc. Call today!
If you notice any of these signs in your home, you'll want a professional at Triple Service Inc to come to your home for an air duct inspection. Our air duct experts will find the cause of the problem & provide air duct repair solutions. No matter the issue, you can trust the local air duct professionals near Mendota, IL to solve any problem today.
Professionalism You Can Count On | One of Mendota, Illinois's Best Local Air Duct Repair Services
With our highly-skilled technicians & upfront pricing, you can trust the local experts at Triple Service Inc for 100% satisfaction guaranteed on all air duct repair & ductwork services.
Book Online
Book Online
Serving Families in the Greater Mendota Area
All Service Areas