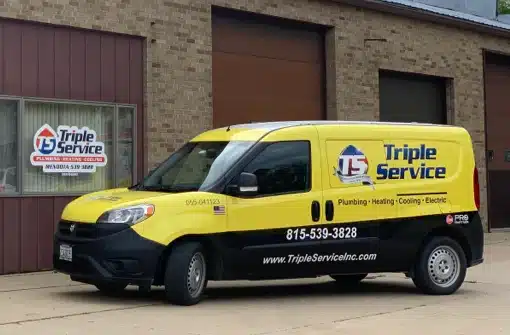 Efficient & Reliable Heat Pump Repair Service
When your heat pump is struggling with efficiency, producing unusual noises, or simply failing to function, the Mendota heating team at Triple Service is here to provide swift and reliable solutions. With years of hands-on experience and a deep understanding of these complex heating systems, our Mendota heat pump repair technicians possess the expertise needed to diagnose and resolve any problem efficiently.
Don't let a malfunctioning heat pump disrupt your comfort – give us a call now, and our dedicated team will swiftly be on its way to restore warmth to your home or business!
Book Online
Book Online
Why Choose Triple Service
Expert advice from professional, licensed & certified technicians
Flexible scheduling - ask about same-day service
Upfront pricing - you'll never pay more than you're quoted
Common Heat Pump Repair Problems in Mendota
At Triple Service, we frequently see the same Mendota heat pump problems. Here are some of the most common problems we see and resolve:
The heat pump does not have power
The filter is clogged
The heat pump squeals, scrapes, or grinds
The pump no longer works or only works weakly
No matter the issue plaguing your heat pump, rest assured, we have encountered it before and know just how to rectify it. Our commitment is to ensure your comfort and peace of mind, and we take pride in our ability to deliver prompt and effective solutions tailored to your specific needs. Reach out to us for heat pump repair in Mendota, IL today!
Book Online
Book Online

Our Mendota Heating Services
What are Common Signs that You Need Heat Pump Repair?
Even when your Mendota heat pump is still heating or cooling your home, there are common warning signs Triple Service knows to look for. If you notice any of the following, a problem with your heat pump may be present, and it's time to call the professionals at Triple Service Inc for a broken heat pump repair in Mendota, IL.
No matter the problem, our heat pump repair technicians will determine what needs to be fixed before any work is done, so you will know exactly what solution is best for your home's heat pump unit.
Is Your Heat Pump Refrigerant Line Leaking?
Is your heat pump unit on but not heating or cooling your home? Your heat pump may have a leak in the refrigerant line, which carries the heat or cold back & forth from your home to the outside. If not addressed quickly & refrigerant levels get too low, your heat pump repair is at risk of becoming a costly replacement. Call the HVAC experts at Triple Service Inc for a heat pump repair diagnostic today!
Is Your home's Heat Pump Turning On & Off Constantly?
If so, your heat pump is experiencing short cycling, and not completing a full heating or cooling cycle. This can lead to serious issues that will wear down the unit quickly & shorten the lifespan of your heat pump.
Is Your Heat Pump Stuck in Cooling Mode?
A cold winter can be miserable when your heat pump isn't actually heating your home. You may have a problem with the reversing valve, which switches the refrigerant line flow from heating to cooling. Call Triple Service Inc HVAC technicians for a heat pump repair today, before your heat pump is locked into heating or cooling mode.
Odd Noises Coming from Your Heat Pump?
Are you hearing a grinding, hissing, or gurgling noise? These are not normal noises, and chances are, your heat pump is in need of a repair. Schedule a heat pump repair diagnostic today with Triple Service Inc
Expert Mendota Heat Pump Repair is Just a Call Away!
At Triple Service, we understand the crucial role a well-functioning heat pump plays in maintaining your comfort. Our commitment extends beyond just fixing the issue at hand; we aim to build lasting relationships based on trust, reliability, and exceptional service. When you choose us for your heat pump repair in Mendota, IL, you're not just choosing expertise and efficiency – you're choosing a partner dedicated to ensuring your heating system operates at its best.
Contact us today and experience the difference with Triple Service – where your satisfaction is our priority!
Book Online
Book Online
Serving Families in the Greater Mendota Area
All Service Areas