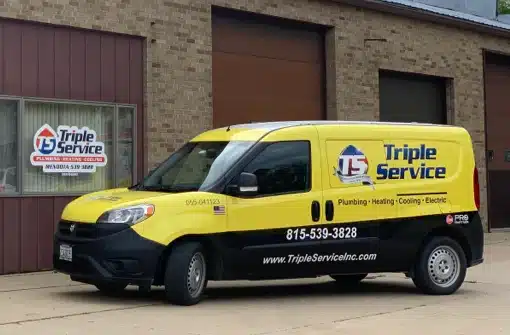 Plumbing, Electrical & HVAC Rochelle, IL
Whenever you find yourself in need of expert assistance with your Rochelle, IL plumbing, HVAC, or electrical systems, Triple Service is the company to contact. Our team of professionals will promptly dispatch an expert to your home or business to address your needs and ensure your home is back up and running as soon as possible.
Contact us today for expert Rochelle HVAC, plumbing and electrical service!
Book Online
Book Online
Why Choose Us for Your Rochelle Home Service Needs
Upfront pricing - you'll never pay more than you're quoted
Expert advice from professional, licensed & certified technicians
We'll only sell you what you need
Plumber Rochelle, IL
Our comprehensive range of plumbing services in Rochelle, IL covers a wide spectrum of needs. If you need assistance with any of the services listed below, don't hesitate to reach out, and one of our skilled Rochelle plumbers will arrive at your doorstep soon:
Plumbing Repair
Plumbing Installation
Plumbing Inspection
Frozen Pipe Repair
Gas Lines
Kitchen Plumbing
Leak Detection
Sump Pumps
Water Heaters
Water Filtration
Water Softeners
Water Wells
Book Online
Book Online

Our Rochelle, IL Services
Bathroom Remodels Rochelle, IL
If you're considering a bathroom makeover, call a Triple Service plumber in Rochelle right away. We can help with everything from replacing sinks, faucets, and showerheads to reconfiguring pipes for enhanced water access. Let us take your current bathroom a step closer to the bathroom of your dreams!
Drains & Sewer Services Rochelle, IL
For any drain and sewer concerns you might be experiencing, rely on our expert drain and sewer services in Rochelle, IL. We'll swiftly diagnose the root of your issues and ensure your water and waste systems are operating smoothly in no time. Call our Rochelle plumbers for:
Rooter Service
Camera Inspection
Hydro Jetting
Trenchless Sewer Repair
Water Lines
Sewer Line Repair
Sewer Line Installation
Backflow Testing
Rochelle HVAC Services
e offer a complete array of HVAC services in Rochelle, Il and beyond. If you require assistance with your heating and cooling systems, reach out to us, and we'll dispatch our Rochelle HVAC team to restore your comfort quickly. Call us for:
HVAC Repair
HVAC Installation & Replacement
HVAC Maintenance
Heating Rochelle, IL
Should you find yourself feeling too chilly at home, get in touch with us without delay. We can help you restore your Rochelle heating system, ensuring you stay warm and also preventing issues like frozen pipes. Call our Rochelle HVAC team right now or whenever you need:
Heating Repair
Heating Installation
Heating Maintenance
Boiler Repair, Installation & Maintenance
Furnace Repair, Installation & Maintenance
Heat Pump Repair, Installation & Maintenance
Thermostats
Air Conditioning Rochelle, IL
We're here to keep you cool during the hot summer months as well. Simply let us know if your Rochelle air conditioning system is experiencing problems, and we'll send a specialist your way as soon as possible. Count on our Rochelle HVAC experts for:
Air Conditioning Repair
Air Conditioning Installation
Air Conditioning Maintenance
Mini-Split Repair
Mini-Split Installation
Mini-Split Maintenance
Thermostats
Get Help at Home in Rochelle Today!
When you're in need of plumbing, HVAC, or electrical system assistance in Rochelle, IL, make the call to Triple Service. We're committed to arriving promptly and working diligently until you have the solutions you need for your home!
Book Online
Book Online
Indoor Air Quality Rochelle, IL
You can improve the quality of your indoor air in Rochelle, Il, by getting in touch with Triple Service right away. Our HVAC experts will assess your needs before creating a system specifically for your house. Reach out to us for:
IAQ Assessment
Air Filtration
Air Purification
Duct Repair
Duct Installation
Duct Cleaning
Duct Sealing
Dehumidifiers & Humidifiers
Electrical Services Rochelle, IL
Our electricians in Rochelle, IL are here to help, too. We'll make sure your house is safe and that your electrical system is working the way you need it to. Call us if you need help with:
Electrical Repair
Electrical Installation
Ceiling Fans
Circuit Breakers
EV Chargers
Generators
Lighting
Smoke & CO Detectors
Surge Protection
Switches & Outlets
Serving Families in the Greater Mendota Area
All Service Areas