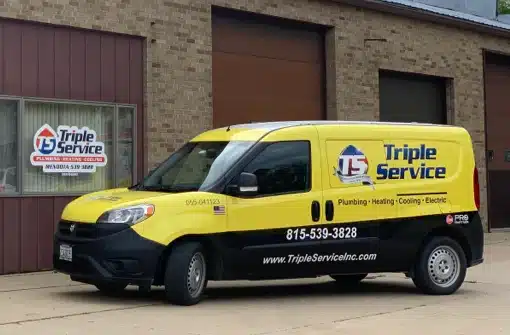 Here for All of Your Mendota Mini Split Installation Needs
Is it time for a new mini-split AC unit or do you want to switch your system over to a ductless mini-split AC? The Mendota air conditioning experts at Triple Service are here to help!
Our ductless AC technicians can help you get the solutions you need and implement them in your home. We'll make sure you have the cooling power you need to keep your family cool all summer long.
Book Online
Book Online
Why Choose Triple Service
Expert advice from professional, licensed & certified technicians
Flexible scheduling - ask about same-day service!
Upfront pricing - you'll never pay more than you're quoted
Our Mendota Ductless AC Installation & Replacement Service
Ductless AC systems, also known as mini-split systems, consist of compact indoor units connected to an outdoor compressor. These systems provide efficient cooling without the need for ductwork, making them an excellent choice for various spaces. If you're looking for a modern, energy-efficient, and customizable AC system, ductless air conditioning in Mendota is the answer.
A detailed consultation marks the start of our installation process. We'll talk over your space's layout, your cooling demands, and any unique requirements. The best location for the interior units and the outdoor compressor will subsequently be determined by our experts once they have evaluated your space.
We'll then create a unique ductless AC system that fits your space and comfort requirements based on the assessment. Our design offers uniform and effective cooling whether you're cooling a single room or several different zones.
Our Mendota ductless mini-split technicians will expertly and precisely complete your ductless AC installation. The indoor units will be mounted, connected to the external compressor, and the appropriate electrical and refrigerant connections will be made.
Book Online
Book Online

Our Mendota, IL AC Services
Benefits of Mendota Ductless Mini Split Installation
Energy Efficiency: Ductless AC systems are more energy-efficient than standard AC systems, allowing you to save money on your utility bills
Zoned Cooling: Set different temperatures for separate rooms or zones to optimize comfort in each area
Flexibility: Ductless systems can be placed in areas where standard ductwork is impractical or impossible
Better Indoor Air Quality: Filters built within the unit assure cleaner air by eliminating dust, allergens, and contaminants
Peace & Quiet: Ductless units work softly, creating a pleasant and comfortable environment
Frequently Asked Questions About Installing Ductless Mini-Split Systems
Ductless mini-split systems can be a great alternative to central A/C systems. Unlike central A/C systems, ductless mini-splits don't require ducts to be installed in your home, and are perfect if you need to heat your home on a room-by-room basis. Call the mini-split installation experts at Triple Service Inc today for a comprehensive installation proposal!
Do Ductless Mini-Splits Heat and Cool?
Yes, ductless mini-split systems provide both heating and cooling to specific rooms of your home. Mini-splits are essentially a heat pump system, but do not require the ductwork that full heat pump systems use.
What are the Benefits of Ductless Mini-Splits in Illinois?
There are several benefits to ductless mini-split installation in your home. One benefit is their use in renovations or new room additions since they don't require new ductwork to be installed. They can also be turned on or off in each room as needed, saving energy and money. Call Triple Service Inc to learn more.
Does Getting a Ductless Mini-Split Installed Save Money?
Short answer: Yes, in the long run. Ductless mini-split systems often have a higher upfront cost than standard AC units, but they are far more efficient and cheaper to run long-term. This means you will end up saving money on your heating & cooling bills for years to come.
How Long Does it Take to Install a Mini-Split System?
About 1 to 2 days. Ductless mini-split installations do not take any longer than standard AC system installation, and usually take less time overall. The installation time for ductless mini-split systems mostly depends on how many rooms in which you will need the exchanger installed. Call Triple Service Inc today for a comprehensive ductless mini-split installation proposal.
Your Local Mendota Ductless AC Installation Experts
No matter the problem, our Mendota mini-split installation technicians will determine the best solution for your home AC system. Reach out to Triple Service today!
Book Online
Book Online
Serving Families in the Greater Mendota Area
All Service Areas