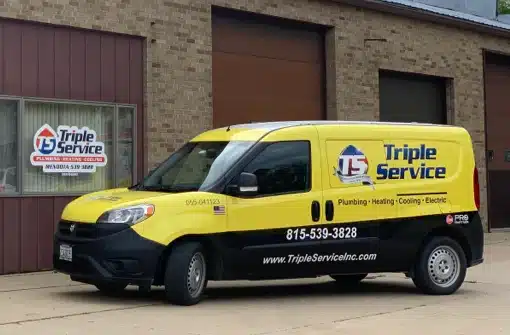 Get the New Heating System You Deserve
When it's time for a new heater and you require heating replacement in Mendota, IL, rely on Triple Service! You can get a new heater that is ideal for you and your home with the assistance of our Mendota heating service professionals.
We understand that there isn't a single, universally effective home heating solution, so we'll work with you to find the best one for you and your family. Once you've chosen your new heating system, we'll take care of the rest! Reach out to us for expert heating installation in Mendota, IL or the surrounding area today!
Book Online
Book Online
Why Choose Triple Service
Expert advice from professional, licensed & certified technicians
Flexible scheduling - ask about same-day service
Upfront pricing - you'll never pay more than you're quoted
Signs You Need Heating Replacement in Mendota, IL
Are you wondering whether you need heating repair or heating replacement in Mendota, IL? Here are a few signs that it's time to consider it:
There are unusual noises are coming from your heater
Your heater isn't as effective as it used to be
Your heating system is more than 15 years old
You've already spent a lot of money fixing your heater
If you have any of these problems, heater replacement in Mendota, IL might be necessary. To learn how we can help you, reach out to us right away!
Book Online
Book Online

Our Mendota, IL Heating Services
Choosing a New Heater for Installation in Mendota
When you need a new heater in Mendota, IL, you want to make sure you get the most suitable one for your home. After all, purchasing a new heater is a substantial investment! For you to feel confident in your purchase, our Mendota heating installation and replacement pros will help you decide what's best for your needs, preferences and budget. We'll consider:
The size (square footage) of your house
How often do you use your heater, and for how long
Your financial circumstances
Your energy-saving preferences
Our Mendota Heating Replacement Process
Once you've decided on a new heater, our Mendota heating installation team will handle the ordering, shipping, installation, and testing. You can be sure that your new heater will operate as intended since we install all heaters in compliance with manufacturer specifications. We'll go over your new heating system with you and we won't leave until you're completely confident in how to operate it.
How Much Does a New Heating System Cost?
Your HVAC system is a large, complex unit that should deliver years of exceptional heating to your entire home. It is important that it's installed correctly, otherwise this costly investment can go to waste. Multiple factors determine the overall cost of a new heating system installation, but the type of heating system you choose has the largest impact.
Our expert HVAC technicians at Triple Service will help you find the perfect heating system to install that's best for your home. The most common HVAC systems for your home include:
Furnace Systems – a majority of households use a central furnace to heat their homes
Boiler Systems – another common heating system that uses hot water to heat radiators throughout the house
Heat Pumps – essentially a two-way air conditioner that transfers heat from an outside air-source or geothermal system to and from the home
Ductless Mini-Splits – a wall mounted system that heats & cools individual spaces or rooms
No matter the problem, our HVAC installation technicians will determine your heating needs and finances before any work is done, so you will know what solution is best for your home and your budget.
Schedule Your Mendota Heating Installation
Rely on Triple Service whenever it's time for heating replacement in Mendota, IL. We will respond quickly, help you select your new heater, and then get it up and running as soon as possible. Reach out to us today!
Book Online
Book Online
Serving Families in the Greater Mendota Area
All Service Areas