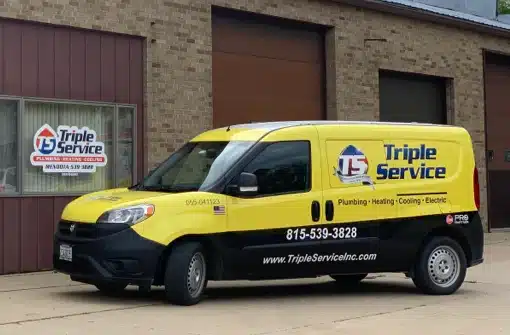 Keeping Your AC in Tip-Top Shape
When you need air conditioning service in Mendota, IL, trust the experts at Triple Service Inc. Our reliable, friendly and licensed technicians will perform your Mendota AC maintenance quickly, ensuring your unit is operating at peak efficiency.
Reach out to us today and we'll make sure your AC is ready when you need it!
Book Online
Book Online
Why Choose Triple Service
Expert advice from professional, licensed & certified technicians
Flexible scheduling - ask about same-day service!
Upfront pricing - you'll never pay more than you're quoted
Why Should I Get AC Maintenance in Mendota?
Before the heat of a hot summer is here, you want to ensure your air conditioner is 100% working. That is why it's important to have your AC serviced with an annual tune-up. AC maintenance in Mendota, IL or the surrounding area has several benefits:
Increased AC system performance
Better air conditioning efficiency
Fewer home visits for AC repair
Improve air quality
Increased lifespan of your AC system
Better overall home comfort
Book Online
Book Online

Our Mendota, IL AC Services
Our Mendota AC Maintenance Service
When you maintain your air conditioner in Mendota, IL or beyond, you are investing in its longevity. The Mendota AC maintenance experts at Triple Service can help you save money on energy costs, improve your comfort, and extend the life of your air conditioning system.
What's Included in a Mendota AC Tune Up?
When you call us for your routine air conditioning maintenance in Mendota, you can expect the following:
A close inspection of all AC system components
Wear & tear check on all belts & other moving parts within your air conditioning unit
Minor adjustment & repair fixes as they're identified
A cleaning of the condenser coils
A calibration of your thermostat
Inspection of your AC's refrigerant levels & check for any leaks
Inspection of the blower belt & motor to ensure proper operation
We'll notify you if we discover any issues and discuss your repair options. We'll work with you to resolve any problems ASAP.
Schedule Your Mendota Air Conditioning Maintenance Tune-Up Today!
Call Triple Service today to schedule your Mendota air conditioning maintenance service at an affordable price. We'll get to you quickly and make sure your air conditioner is ready to keep you cool all summer long!
Book Online
Book Online
Mendota AC Maintenance FAQ
Serving Families in the Greater Mendota Area
All Service Areas