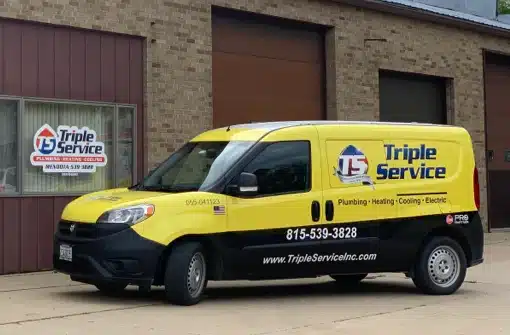 Here for All of Your AC Installation Needs
Count on the Mendota air conditioning team from Triple Service when it's time to replace your AC unit, or install a new one for the first time. Our AC installation experts will help you choose the perfect air conditioning system for your home and get it up and running for you quickly.
Regardless of the type of air conditioner you choose, whether it's a central AC system or a ductless mini-split, rely on our Mendota, IL AC installation team. Call us today!
Book Online
Book Online
Why Choose Triple Service
Expert advice from professional, licensed & certified technicians
Flexible scheduling - ask about same-day service!
Upfront pricing - you'll never pay more than you're quoted
Reliable, High-Quality AC Installation at a Reasonable Cost
At Triple Service, you can count on us for expert AC installation in Mendota, IL and the surrounding area. Our licensed technicians have years of experience working with a wide range of brands, makes and models, so you can rely on us for exceptional service and quality craftsmanship.
Book Online
Book Online

Our Mendota, IL AC Services
How Do I Know If I Need AC Replacement in Mendota, IL?
You may benefit from a new AC in a number of ways, including improved energy efficiency, safety, and comfort in your house. Here are several indicators that it's time to replace your air conditioner in Mendota, IL:
Repairs are becoming more frequent and expensive because your air conditioner is over 15 years old
Your energy prices have been rising consistently despite your efforts to cut back on use
There are warm places in your house, and your air conditioner no longer evenly cools it
Your air conditioner is leaking or making odd noises
Your air conditioner needs repairs, which would cost more than half as much as a new one
It's time to contact Triple Service for AC replacement in Mendota, IL if you're experiencing any of these problems!
How to Choose the Best Unit for AC Installation in Mendota
When it comes to choosing a new air conditioning system, our team will discuss a number of variables to ensure you receive an AC unit that best suits your needs, preferences and budget, such as:
How big your house is
If you should buy an energy-efficient appliance
What a cool place you like to live
how frequently you use your AC
How Much Does a Central Air Conditioning Unit Installation Cost?
The cost of a new air conditioning system installation can vary widely. Our Mendota air conditioning installation technicians will determine your AC needs and finances before any work is done, so you will know exactly what solution is best and most affordable for your new air conditioning system.
Several factors affect the price to install a new AC system:
What's a Pre-Installation Evaluation? Does My New AC Need One?
In short, yes. A first step is conducting an energy audit to determine the energy load for your home. Calculating the load tells the experts at Triple Service Inc how much heat your house gains throughout the day & what size air conditioner will work best to keep it cool. This is critical as most AC installation issues stem from an improperly-sized air conditioning unit.
Is Your Home's Ductwork & Design Able to Handle a New AC System?
Often your old, existing ducts can't handle the airflow of a newly installed air conditioner. Any upgrades to accommodate a new system will likely increase the cost to install an A/C unit, but will ultimately help you avoid costly, high energy bills & hot rooms in the future.
What Type of Central AC Unit Should I Install?
Here's where the load calculation comes into play, as you want to pick the right size AC unit to install – either too big or too small of an AC unit can lead to costly repair or replacement down the road. Call the HVAC professionals at Triple Service Inc, they'll know which AC unit is perfect to install in your home at the lowest price.
Get Your Mendota Air Conditioning Installation Today
Triple Service Inc is the trusted name in AC installation services near you. If you're having issues with your air conditioner, or think it might be time for AC replacement in Mendota, IL, schedule a comprehensive air conditioning installation evaluation and cost estimate with us today!
Book Online
Book Online
Serving Families in the Greater Mendota Area
All Service Areas