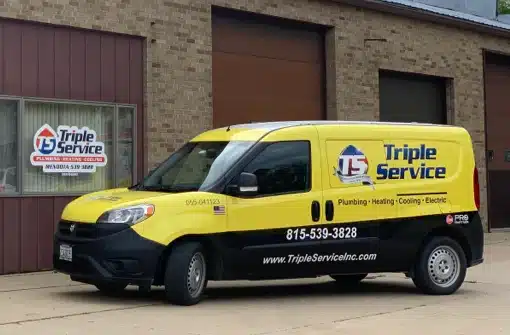 Here for All of Your Water Line Needs
When you need Water Line services, trust the experts at Triple Service Inc. Our technicians have the skills, knowledge, and tools to fix most Water Line problems on the spot.
When your Triple Service Inc technician arrives at your home they will explain all of your options before starting repairs so you can make informed decisions before any work begins. We service and repair most brands of equipment, so you can trust us to perform a professional Water Line job.
We're not happy until you're happy.
Book Online
Book Online
Why Choose Triple Service
Expert advice from professional, licensed & certified technicians
Flexible scheduling, ask about same-day service
Upfront pricing - you'll never pay more than you're quoted
What Should You Expect From a Top-Quality Water Line Repair Service?
We offer a full line of installation, maintenance & repair that your home Water Line may require, no matter the problem or time of year. You can count on the trusted professionals at Triple Service Inc for exceptional service & quality craftsmanship.
Book Online
Book Online

Our Mendota, IL Drain & Sewer Services
How Much Does it Cost to Install a New Water Main Line?
The water line into your house is one of the most important parts of your home's plumbing & your home in general. The water main line provides clean, fresh water for the entirety of your home, so it's important that it is maintained well. However, problems can arise at any time and may require a full or partial water line replacement or installation. Replacing or installing a new water line can be a costly affair, so it's important you know the factors that can increase or decrease the cost of the overall project.
Type of Material Used to Install/Replace Your Water Line
There are two primary types of piping that can be used for your water main line installation. The most common, copper piping, is the most expensive and is best for cold climates. PVC piping is of lower quality for a water line installation and is much less costly. Ask the expert plumbers at Triple Service Inc about which is best for your water line replacement & your budget.
Accessibility of Your Water Line Replacement
If a water mainline is difficult to access, such as underneath a tree or cement sidewalk, excavation can be a costly affair, as it will require heavy equipment. A standard water line installation will only sometimes require an excavator, if at all, which runs considerably cheaper.
Length of Water Line Replacement
The further your home is from the city water line, the more expensive the overall installation will become due to additional materials & labor. Call Triple Service Inc for a pricing quote today & know exactly what you'll pay before any work is done.
No matter the problem, our water line replacement & installation plumbers will determine what needs to be fixed before any work is done, so you will know exactly what solution is best for your water mainline needs.
What are Common Warning Signs of a Broken or Deteriorating Water Line in Need of Repair?
You may not have a problem with your water line yet, but it's best to address the most common warning signs when they show. If not addressed, a water line replacement can be incredibly costly. Fortunately, you have the expertise of Triple Service Inc plumbers at your service, who know the signs & are ready with fast repair solutions. If you notice any of the following, you may have a deteriorating or broken water line in need of repair:
Is Your Water Murky or Discolored?
If your home's plumbing is experiencing higher-than-usual sediment levels or a producing rust-brown colored water, there may be an issue with your water main line. Both symptoms indicate that you may have a crack with dirt & soil entering, or your pipes are corroding from rust. Call the expert water line repair plumbers at Triple Service Inc before you're dealing with a burst pipe & replacement is needed.
Have Wet, Soggy Spots Appeared in Your Lawn?
If it hasn't rained recently in your area and you're finding damp or soggy patches in your yard, this may be a sign the water line is cracked beneath your feet. By this point, the crack has been extensively leaking for some time if water has started showing on the surface, so call the Triple Service Inc plumbers right away to get a water line repair fast.
Decrease in Your Home's Water Pressure?
Have you noticed a drop in water pressure across your home's plumbing system? It may not directly be a sign of a broken water line needing repair, but it may be, so it's best to call a plumber to find out what's really going on.
Is Your Water Bill Increasing Unusually?
Again, not directly a sign of a broken water line in need of repair, but it could be the result of an issue. The other likely reason would be a leak in your home! Either way, call one of the certified plumbers from Triple Service Inc to get to the bottom of your expensive water bill, and find a solution that works best for you.
No matter the problem, our water line repair plumbers will determine what needs to be fixed before any work is done, so you will know exactly what solution is best for your home's water mainline.
Call Triple Service Inc Today! We'd Be Happy to Answer Your Questions About Water Line Repair Services
Do you suspect your home's water line may have an issue? Triple Service Inc is the trusted name in Water Line Repair services near you.
Schedule your water line repair cost estimation evaluation today & ensure your water line flows smoothly all year long!
Book Online
Book Online
Serving Families in the Greater Mendota Area
All Service Areas