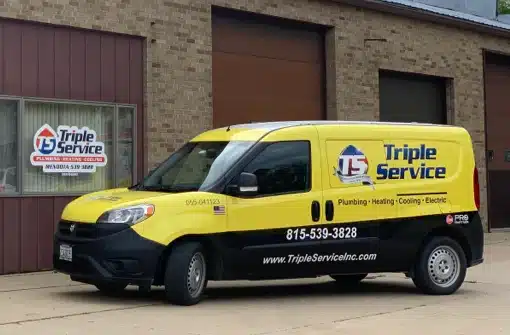 Get the Best New Furnace for Your Home
The Mendota heating service experts at Triple Service are here to help you when it's time to install a new furnace in your home or business. When you need quick and reliable furnace installation in Mendota, IL, or just have questions about it, trust a team that's been in business for over 70 years! We'll help you pick out a new furnace and then get it installed with minimal disruption to your daily routine.
Call us today to start the process of installing or replacing your furnace in Mendota or the surrounding area!
Book Online
Book Online
Why Choose Triple Service
Expert advice from professional, licensed & certified technicians
Flexible scheduling - ask about same-day service
Upfront pricing - you'll never pay more than you're quoted
Signs You Need Furnace Replacement in Mendota, IL
Sometimes it's not altogether obvious if you need furnace repair or new furnace installation in Mendota. If you notice any of the signs below, we recommend that you at least consider replacing your furnace:
Your furnace is over 15 years old, and repairs are becoming more frequent and costly
Despite your efforts to reduce usage, your energy expenses have been on the rise
Your furnace doesn't heat your home evenly, and there are some cool spots
Strange sounds or odors are coming from your furnace
Regular furnace repairs will cost more than half as much as a new furnace
No matter the problem, our expert Mendota furnace installation technicians will determine your heating and furnace needs and finances before any work is done, so you will know what solution is best and most affordable for your new furnace system.
Book Online
Book Online

Our Mendota Heating Services
How to Choose the Best New Furnace in Mendota, IL
If you've determined that your furnace is beyond repair or you're done paying for furnace repairs, we'll work with you to find a fantastic new furnace that meets your needs and your budget. When you contact us for furnace installation in Mendota, IL or the nearby area, we'll consider the following factors:
The size of your house or its square footage; essentially how much space the furnace will need to heat
The type of furnace you currently own
Whether or not you've been happy with your current furnace when it was working well
How often you use your furnace and how warm you like to keep your house
Whether you want to make a long-term investment in a device that will save energy (and money)
Your budget
Once we have the answers to these questions, we will suggest new furnaces that are made by trustworthy companies that will suit your needs. We'll never suggest a new furnace in Mendota, IL that we wouldn't be happy installing in our own homes!
Our Mendota Furnace Installation Process
Once you choose your new furnace based on our recommendations, we'll get it ordered and once it arrives, we'll start the installation process! We make sure that every Mendota furnace installation we complete complies with manufacturer guidelines in order to guarantee that everything is working as intended and the way you need it to. We won't leave until you're fully satisfied with your Mendota furnace installation!
How Much Does Mendota Furnace Installation Cost?
Your furnace is a large, complex unit that will deliver years of exceptional heating to your entire home. It is important that it's installed correctly, otherwise this costly investment can go to waste. Multiple factors determine the overall cost of a new furnace installation, but the type of furnace you choose has the largest impact. Our expert HVAC technicians at Triple Service Inc will help you find the perfect furnace to install that's best for your Illinois home. The 3 main types of new furnace installations available are listed below.
Gas Furnace Installation & Replacement
Gas furnaces are the most commonly installed furnaces in Mendota homes. More efficient than installed oil furnaces, but less than electric, gas furnaces are typically the cheapest to run, as they use natural gas as an energy source. With this, your home runs the risk of creating a buildup of carbon monoxide, and your furnace will require on-going maintenance throughout its life. Gas furnaces are, however, the least expensive model to run using natural gas, making them a favorable choice for furnace replacement.
Electric Furnace Installation & Replacement
The electric furnace is another popular choice for homeowners. Electric furnace installations are less expensive, as they require only electricity and not natural gas line piping installation or oil storage tanks. On the flip-side, electrical furnaces are the most expensive to run due to their high usage of electricity. Electric furnaces still remain a common furnace replacement option with their comparatively lower purchase costs & minimal lifespan maintenance. Ask an HVAC expert from Triple Service Inc today if the cost of an electric furnace installation is worthwhile for your home.
Oil Furnace Installation & Replacement
Oil furnaces are not what they once were in, but they still offer some attractive benefits. Oil furnaces are able to heat large spaces evenly & have less emissions than gas furnaces, with no risk of carbon monoxide leakage in your home. However, oil furnaces do require an on-site oil storage tank for fuel & an oil delivery service. Oil is typically more expensive than natural gas and has the lowest efficiency rating for heating per its energy source, however, this depends largely on your Mendota, Illinois location. Call us today to schedule a furnace installation cost estimation to see if an oil furnace installation is the right fit for your home.
Schedule a Mendota Furnace Installation Evaluation Near You
Trust the team at Triple Service if you  think it's time for furnace replacement in Mendota, IL or the surrounding area. We'll answer any questions you may have and help you in finding the ideal replacement furnace for your home or business.
Contact us right away for professional furnace installation in Mendota, IL and beyond!
Book Online
Book Online
Mendota Furnace Installation FAQ
Serving Families in the Greater Mendota Area
All Service Areas