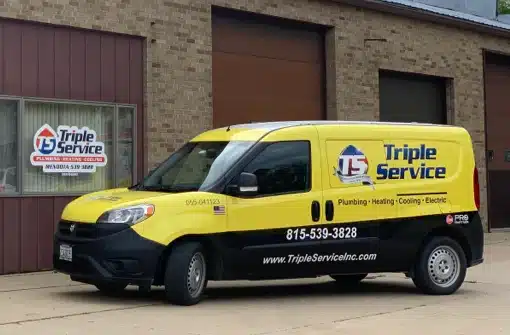 Here for All of Your Home Generator Needs
When you need Home Generator services, trust the experts at Triple Service Inc. Our technicians have the skills, knowledge, and tools to fix most Home Generator problems on the spot.
When your Triple Service Inc technician arrives at your home they will explain all of your options before starting repairs so you can make informed decisions before any work begins. We service and repair most brands of equipment, so you can trust us to perform a professional Home Generator job.
We're not happy until you're happy.
Book Online
Book Online
Why Choose Triple Service
Expert advice from professional, licensed & certified technicians
Flexible scheduling - ask about same-day service!
Upfront pricing - you'll never pay more than you're quoted
Get the Reliable, High-Quality Home Generator Repair Experts You Deserve
We offer a full line of installation, maintenance & repair that your home Home Generator may require, no matter the problem or time of year. You can count on the trusted professionals at Triple Service Inc for exceptional service & quality craftsmanship.
Book Online
Book Online

Our Mendota, IL Electrical Services
What are Signs that My Home Needs Generator Repair Services?
Home generators can be a great source of security and comfort for your family during storms and power outages. To make sure your Illinois home generator is working properly, it's important to perform routine maintenance on your system and watch for any signs that could indicate a problem with your generator. Here are some signs that you may need home generator repair.
If Your Home Generator is Not Turning On:
A generator that is slow to start, or won't start up at all, is usually a sign that something internally is either broken or in need of maintenance. A dead battery, broken components, and standard wear and tear can all cause problems for your home generator. The generator experts at Triple Service Inc can diagnose your problem and provide a personalized & affordable cost estimate for your home's generator repair today!
Is Your Home Generator Leaking?
Home generators contain storage tanks and lines for a number of fluids such as coolant, fuel, and oil. If the lines or tanks for these fluids are damaged and leaking at all, it can cause a serious problem for the functionality of your home generator and must be addressed immediately.
If There Is Visible Damage To Your Home Generator:
Even small signs of damage on the exterior of your generator can indicate a problem within the unit. If you notice signs of damage to your home generator, it's important to have it inspected right away. The home generator repair experts at Triple Service Inc can provide you with an affordable diagnostic proposal for your home generator.
If Your Home Generator's Diagnostic Light is Red or Yellow:
Most home generators have a diagnostic indicator light on them, which will turn green, yellow, or red upon completing an automatic diagnostic test. If you notice that the light has turned yellow or red and aren't sure why, call an expert right away. The team at Triple Service Inc is ready to provide you with a comprehensive diagnosis of your home generator repair at an affordable price.
No matter the problem, our Illinois home generator repair technicians will determine what needs to be repaired before any work is done, so you will know exactly what solution is best for your home generator.
Which Home Generator Do I Need for My Home Near?
Whether you're looking to use a generator at your home, your workplace, or for recreation, there are a few factors to consider. The type of generator you buy, how often it's used, and the amount of power you need are all important to consider. The home generator installation experts at Triple Service Inc can help you find the perfect home generator for your needs. Here are some factors to consider when selecting which home generator to install for your needs.
What are the Different Types of Home Generators?
There is a wide variety of home generator types and capacities to choose from, including whole-home standby generators; large, medium, and small inverters; and portable generators. Many standby home generators are powered by natural gas, and switch on automatically in a power outage without needing to be refueled. Inverters cover a wide range of uses and can power anywhere from a few appliances to a small house. Portable generators usually offer the best value for your dollar, but are often limited in their output. Call the home generator installation experts at Triple Service Inc for a comprehensive proposal to figure out which home generator installation service works best for you!
What Size Home Generator Should I Buy for My Home?
The size of the home generator that you choose to buy depends mostly on what you'll be using it for. If you need a home generator with capacity to power your entire Mendota, IL home during an emergency, then you'll probably need a standby home generator. These are permanently installed outside your home in Illinois, and are generally the most expensive option. Large and medium inverters are another good option if you're looking to power a few key appliances during a power outage. To understand which home generator best suits your Mendota, IL home, call us at (815) 384-6521 to schedule a comprehensive, personalized home generator installation proposal.
How Much Power Does My House in Need?
Part of choosing the best home generator for your home is understanding how much power you need. As a rule of thumb, your home generator should be able to power the combined wattage of whatever appliances you want running in the event of a power outage. However, calculating exactly what wattage you need can be tricky, and it is potentially dangerous if calculated incorrectly. The home generator installation experts at Triple Service Inc can help you decide exactly how much power your Mendota, Illinois home needs with a personalized, comprehensive home generator installation proposal.
No matter what your home generator needs are, our  expert home generator installation electricians will help you determine the right fit for you, and will provide expert advice on your specific home generator installation before any work is done. You'll know exactly what solution is best for your home's defense against losing power when you need it most.
Schedule a Comprehensive Home Generator Installation Near You in Mendota, IL
Are you worried about losing power to your house, or even experienced this before? Triple Service Inc is the trusted name in Illinois home generator repair & installation services near you.
Schedule your home generator repair, installation & replacement cost estimation service today & ensure your home generator is running smoothly and protecting you all year long!
Book Online
Book Online
Serving Families in the Greater Mendota Area
All Service Areas