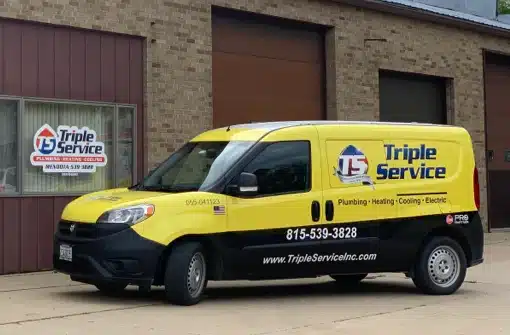 Here for All of Your Ceiling Fan Installation Needs
When you need Ceiling Fan services, trust the experts at Triple Service Inc. Our technicians have the skills, knowledge, and tools to fix most Ceiling Fan problems on the spot.
When your Triple Service Inc technician arrives at your home they will explain all of your options before starting repairs so you can make informed decisions before any work begins. We service and repair most brands of equipment, so you can trust us to perform a professional Ceiling Fan job.
We're not happy until you're happy.
Book Online
Book Online
Why Choose Triple Service
Expert advice from professional, licensed & certified technicians
Flexible scheduling - ask about same-day service!
Upfront pricing - you'll never pay more than you're quoted
Get the Reliable, High-Quality Ceiling Fan Installation Experts You Deserve Today
We offer a full line of installation, maintenance & repair that your home Ceiling Fan system may require, no matter the problem or time of year. You can count on the trusted professionals at Triple Service Inc for exceptional service & quality craftsmanship.
Book Online
Book Online

Our Mendota, IL Electrical Services
What Type of Ceiling Fan is Best for Your Home?
There are many factors that determine which ceiling fan is best for your home, and ultimately, how much installing your chosen ceiling fan will cost. You can rely on Triple Service Inc to cover all of these factors in our ceiling fan installation evaluation. In the meantime, you can start to get an idea of what fan would work best for you from the 4 most common residential ceiling fan types available:
A Standard Ceiling Fan
Typically with 5 blades & a built-in light feature, a standard ceiling fan comes in a variety of styles that can fit any decor & functionality within your living space. It's not uncommon that these ceiling fans include additional accessories such as remote-control operation, customizable blades, and assorted light kits.
Low Profile Ceiling Fan Installations
If your home has a low clearance of 8 ft or less, a low profile ceiling fan installation is a perfect fit. These ceilings fans are installed directly to the mounting bracket, keeping the fan at the required 7 ft off the floor. Call Triple Service Inc today to see if a low profile ceiling fan is right for you!
Dual Motor Ceiling Fan
A dual motor ceiling fan is generally found in large rooms or public settings, as they circulate air over a much greater area than your standard ceiling fan. These fans are installed with an adjustable fan that can each be set at its own speed, thanks to a central motor equipped with two horizontal rods.
Damp or Wet Ceiling Fans for the Outdoors
These ceilings fans offer protection from the elements with moisture & humidity proofing to resist warping. Have a Triple Service Inc electrician install a damp ceiling fan in a minimally exposed, preferably covered, area such as a sunroom or porch. A wet ceiling fan can be installed essentially anywhere, as they can handle just about any weather condition; rain, shine, or snow.
No matter what your ceiling fan installation needs are, our installation electricians will help you determine what ceiling fan is best for you before any work is done. You'll know exactly what ceiling fan is best for your home cooling & ventilation needs.
Schedule a Comprehensive Ceiling Fan Installation Proposal Near You
Do you have a ceiling fan experiencing issues? Triple Service Inc is the trusted name in  ceiling fan installation & replacement services near you.
Schedule your ceiling fan installation or replacement cost estimation service today & ensure that all of your ceiling fan systems are running smoothly all year long!
Book Online
Book Online
Serving Families in the Greater Mendota Area
All Service Areas