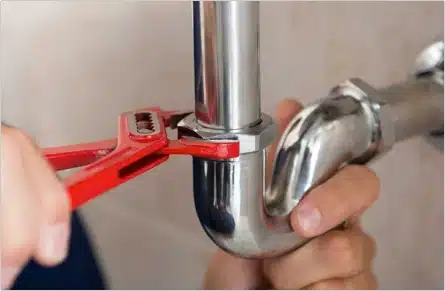 Here for All of Your Drain & Sewer Needs
Are you looking for help with your Mendota drains or sewer line? No matter what problems you're having, our Mendota plumbers have the skills, knowledge, and tools to fix most of them on the spot. Reach out now and we will be there soon to diagnose your drain or sewer problem, find the best way to resolve it, and eliminate it for you so you won't have to worry anymore!
Call our licensed Mendota drain and sewer technicians for expert service today!
Book Online
Book Online
Why Choose Triple Service
Expert advice from professional, licensed & certified technicians
Flexible scheduling, ask about same-day service
Upfront pricing - you'll never pay more than you're quoted
Our Drain & Sewer Services Near You in Mendota
The home drain experts at Triple Service are trained and certified in the state of Illinois to clear, clean, maintain, & replace residential drain systems. We offer a full range of drain and sewer services in Mendota and beyond, including:
Camera Inspections
Drain Cleaning & Rooter Service
Hydro Jetting
Water Line Repair & Installation
Sewer Line Repair & Replacement
Trenchless Sewer Repair
Backflow Testing
Our friendly Mendota drain and sewer technicians will come to your home and work with you to solve your drain problems. Whether it's a simple fix like drain cleaning or a bigger job such as replacing parts of your sewer line, we're up to the task.
Triple Service takes pride in ensuring 100% satisfaction on all drain and sewer services we provide to you and your neighbors!
Book Online
Book Online

Our Mendota, IL Drain & Sewer Services
Camera Inspections
Are you concerned about something going on in your Mendota sewer line? Perhaps you're having issues, or you'd like to inspect the sewer system of a building before you finalize a purchase. Whatever the reason, we can assist you in inspecting the sewer to determine what, if anything, is wrong and what needs to be done to rectify the issue.
Drain Cleaning & Hydro Jetting
Call us at Triple Service whenever you need drain cleaning in Mendota, IL or the surrounding area. We'll quickly clean out your drains so you don't have to think about them anymore. Aside from using traditional methods to remove drain clogs, we also offer hydro-jetting to clean out sewer lines. This involves spraying a strong stream of water into your sewer line. Just give us a call, and we'll be there right away!
Sewer Line Repair & Installation
If you're having issues with your Mendota sewer line, you may need to have it repaired or replaced. This may sound like a stressful project, but you don't have to be concerned when you call Triple Service. Our sewer experts are available and eager to help you. We can even use trenchless methods when possible, which means we won't have to dig up your whole yard! Call us immediately so we can get to you quickly and take care of your sewer problems before they cause other issues for you.
Water Lines
Are you worried about water line leaks in Mendota? We can put them to the test and report back to you. We can also assist you in obtaining water wherever you need it in your home. Simply let us know what you're thinking, and we'll install your new water lines as quickly as possible.
Call Triple Service for Mendota Drain & Sewer Help Today!
Triple Service is the best option when you need drain or sewer services in Mendota, IL. Our professional plumbing team is dedicated to fulfilling every one of your needs. We can take care of any issue, big or small! We value your happiness and will work hard to meet your expectations.
You can trust that any drain or sewer difficulties in your home will be repaired quickly and thoroughly by Triple Service. Contact us now to see the difference superior drain and sewer services make in your home!
Book Online
Book Online
Serving Families in the Greater Mendota Area
All Service Areas