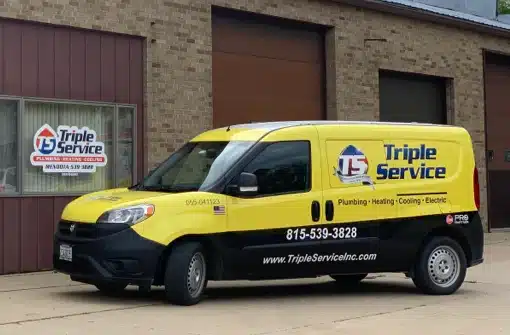 Keeping Your Heat Pump Running Its Best
Triple Service is proud to be your dedicated partner for comprehensive heat pump maintenance in Mendota, IL, and neighboring areas. Regular maintenance is the key to ensuring the longevity, efficiency, and reliability of your heat pump system. Our team of skilled Mendota heating technicians specializes in providing thorough maintenance checks, addressing potential issues before they escalate, and optimizing your heat pump's performance.
With our proactive approach and commitment to quality service, Triple Service aims to keep your HVAC system running smoothly, ensuring your comfort year-round. Call us today!
Book Online
Book Online
Why Choose Triple Service
Expert advice from professional, licensed & certified technicians
Flexible scheduling - ask about same-day service
Upfront pricing - you'll never pay more than you're quoted
Advantages of Regular Heat Pump Maintenance in Mendota, IL
Regular maintenance for your heat pump in Mendota, IL offers several key benefits, including:
Improved Energy Efficiency: Regular upkeep can enhance your heat pump's efficiency, leading to potential savings on your energy bills
Extended Lifespan: Proper maintenance contributes to a longer-lasting heat pump, reducing the need for frequent replacements
Enhanced Safety: Maintenance helps ensure safer operation, minimizing potential risks
Reduced Repair Costs: By addressing issues early, routine maintenance can cut down on costly repairs in the long run
Enhanced Home Comfort: A well-maintained heat pump ensures consistent and reliable heating, enhancing overall comfort in your home
Book Online
Book Online

Our Mendota Heating Services
When Should I Get a Heat Pump Tune-Up?
Even when your home's heat pump is still heating or cooling your home, there are common warning signs Triple Service Inc knows to look for. Preventative maintenance tune-ups can avoid a variety of costly breakdowns! If you notice any of the following, a problem with your heat pump may be present, and it's time to call the professionals at Triple Service Inc for heat pump maintenance, or potentially a repair:
Is Your Heat Pump Refrigerant Line Leaking?
Is your heat pump unit on but not heating or cooling your home? Your heat pump may have a leak in the refrigerant line, which carries the heat or cold back & forth from your home to the outside. If not addressed quickly & refrigerant levels get too low, your heat pump repair is at risk of becoming a costly replacement. Call the HVAC experts at Triple Service Inc for a heat pump repair diagnostic today!
Is Your Home's Heat Pump Turning On & Off Constantly?
If so, your heat pump is experiencing short cycling & not completing a full heating or cooling cycle. This can lead to serious issues that will wear down the unit quickly & shorten the lifespan of your heat pump.
Is Your Heat Pump Stuck in Cooling Mode?
A cold winter is never enjoyable when your heat pump isn't actually heating your home. You may have a problem with the reversing valve, which switches the refrigerant line flow from heating to cooling. Call Triple Service Inc HVAC technicians for a heat pump repair today, before your heat pump is locked into heating or cooling mode.
Odd Noises Coming from Your Heat Pump?
Are you hearing grinding, hissing, gurgling, or other noises? While not indicative of a specific problem, this is not common, and chances are that your heat pump is in need of repair. Schedule a heat pump repair diagnostic today with Triple Service Inc!
Schedule Your Mendota Heat Pump Tune-Up Now!
At Triple Service, we understand the importance of a well-maintained heat pump in sustaining a comfortable indoor environment. Our maintenance services go beyond routine check-ups; they're a testament to our dedication to your comfort and peace of mind. By entrusting us with your heat pump maintenance in Mendota, you're investing in reliability, efficiency, and the expertise of a team committed to ensuring your system's optimal performance.
Experience the difference with Triple Service and enjoy the confidence that comes with a well-maintained heat pump system designed to meet your needs effectively. Call us today!
Book Online
Book Online
Serving Families in the Greater Mendota Area
All Service Areas