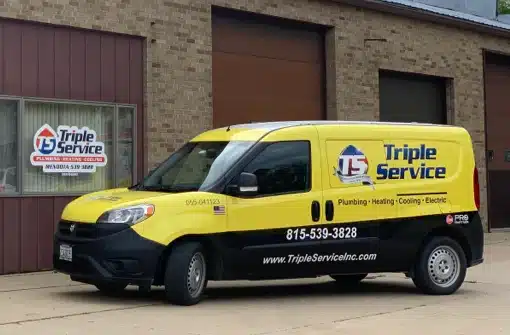 Here for All of Your Thermostat Needs
When you need Thermostat services, trust the experts at Triple Service Inc. Our technicians have the skills, knowledge, and tools to fix most Thermostat problems on the spot.
When your Triple Service Inc technician arrives at your home they will explain all of your options before starting repairs so you can make informed decisions before any work begins. We service and repair most brands of equipment, so you can trust us to perform a professional Thermostat job.
We're not happy until you're happy.
Book Online
Book Online
Why Choose Triple Service
Expert advice from professional, licensed & certified technicians
Flexible scheduling - ask about same-day service
Upfront pricing - you'll never pay more than you're quoted
Get the Reliable, High-Quality Home Energy-Efficient Smart Thermostat Installation Experts You Deserve at a Reasonable Cost
We offer a full line of installation, maintenance & repair that your home Thermostat system may require, no matter the problem or time of year. You can count on the trusted professionals at Triple Service Inc for exceptional service & quality craftsmanship.
Book Online
Book Online

Our Mendota, IL Heating Services
What are Some of the Benefits of Upgrading to a Smart Thermostat?
Convenience: Controlling your thermostat remotely from a cell phone is a great convenience. You can adjust the temperature inside your home before you walk in the door, and step into comfort without having to run your A/C or heating all day long.
Energy Savings: One of the biggest reasons people in Mendota, IL upgrade to smart thermostats is because of the energy savings. Instead of running your HVAC systems all day, you can efficiently choose when to heat & cool your home.
Automation: Say goodbye to accidentally forgetting to set your thermostat. Some smart thermostats can sense when you're gone and will automatically adjust the temperature in your home for energy-savings.
How to Choose the Right Smart Thermostat to Install in Your Home
Most modern, residential, whole-home thermostats are either electromechanical, digital, or a combination of both, meaning that there are many options available for customers interested in smart thermostat installation.
Different types of home smart thermostats will come with various features that may meet your specifications, and the easiest way to determine the right option for you is to consult with an air quality expert from Triple Service Inc. Below, we have listed some basic information which should help guide your whole home energy-efficient smart thermostat replacement decision:
7-Day Models – These energy-efficient smart thermostats are best if your schedule and temperature needs change daily.
5 + 2 Models – Choose this type of residential, energy-efficient smart thermostat if you have a regular weekday schedule, and a different schedule on the weekends.
5-1-1 Models – This type is best if you have a predictable weekday routine and different schedules on both Saturday and Sunday in your home.
Wondering What Your Smart Thermostat Installation Options are?
No matter the question or situation, Triple Service Inc is ready to help answer any questions you may have regarding smart thermostat installations. Call us today!
Book Online
Book Online
Serving Families in the Greater Mendota Area
All Service Areas