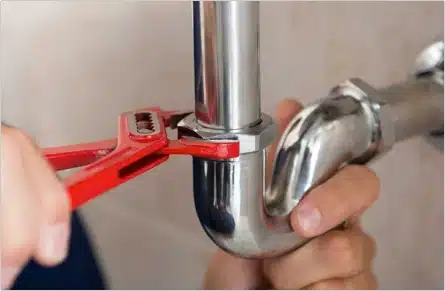 Here for All of Your Plumbing Installation Needs
When you need installation services, trust the experts at Triple Service Inc. Our technicians have the skills, knowledge, and tools to fix most Repiping problems on the spot.
When your Triple Service Inc technician arrives at your home they will explain all of your options before starting repairs so you can make informed decisions before any work begins. We service and repair most brands of equipment, so you can trust us to perform a professional installation job.
We're not happy until you're happy.
Book Online
Book Online
Why Choose Triple Service
Expert advice from professional, licensed & certified technicians
Flexible scheduling - ask about same-day service!
Upfront pricing - you'll never pay more than you're quoted
When Do I Need Repiping Service?
Is it time to upgrade your home's piping system? When piping has become old or damaged beyond repair, it needs to be replaced. Some of the most common reasons for repiping include:
Pipe age — The age of a home is often the biggest indicator of whether or not it needs to be repiped. If a house was built in or before 1970, a plumber should be called to inspect the condition of its pipes.
Visible corrosion — If a pipe has visible corrosion, it should be replaced as soon as possible. Corroded pipes can spring leaks and shouldn't be ignored.
Leaking pipes — Leaking pipes can be repaired, but if one pipe is leaking there's a good chance that others in the house will also start leaking soon. Call an expert at Triple Service Inc to find out if repiping service is needed.
Bad-tasting water — If a home's drinking water starts smelling or tasting different, it's time to call a plumber. Bad-tasting water can be a sign of corroded pipes that need to be replaced.
If you notice any of these signs, call Triple Service Inc today. Our experienced repiping experts near Mendota, IL are knowledgeable of the entire re-piping process and can repipe your current plumbing system with new, long-lasting pipes.
Book Online
Book Online

Our Mendota, IL Plumbing Services
What are Signs of a Plumbing System in Need of Repiping Service?
Although plumbing systems can last for years, the time eventually comes when your plumbing system needs to be replaced. This process is called repiping. Whole-home repiping may also be required when a leaky pipe is severely damaged, and a simple repair won't solve the problem. Fortunately, you have the expert plumbers at Triple Service Inc in your Mendota, Illinois neighborhood, who are ready to come save the day! If you notice any of the following in your home, it may be time to schedule a repipe cost estimate with Triple Service Inc:
Are You Living in an Older Home in Mendota, Illinois?
If your home is 50+ years old, it may be time to have your plumbing system repiped, if it hasn't been done already. Galvanized pipes, found in most older homes, have an increased tendency to corrode or burst. Don't wait for disaster to strike! Have your pipes inspected today by Triple Service Inc & get a repiping cost estimate.
Low Water Pressure in Your Mendota, IL Home?
Even if after a Triple Service Inc drain cleaning you still experience low water pressure, it may be time for a home repiping project. Due to natural buildup of minerals & rust, a drain cleaning can't deter aging. Call Triple Service Inc today for a repiping cost estimate if you believe you have pipes needing replacement.
Do You Have Red or Brown Water?
Red or brown water is typically a sign of rust in your plumbing system. Rust, as you might guess, is a sign of aged, corroding pipes reaching the end of their lifespan. Again, don't wait until a pipe bursts or breaks, call an expert Triple Service Inc plumber today for a repiping cost estimate & have your plumbing replaced quickly!
Multiple Pipe Leaks Starting to Add Up?
The occasional leaky pipe calls for a simple repair now & again, but if the leaks start to become a common occurrence in your home in Mendota, Illinois, it may be time for plumbing system repiping. It may be a costly project, but you will save future time & money by avoiding regular repair fees.
No matter the extent of the problem, our Mendota, Illinois repiping & plumbing system replacement plumbers will determine your plumbing system needs before any work is done, so you will know exactly what solution is best for your home's repiping project.
Schedule A Repiping Service Cost Estimate Near You in Mendota, IL
Is your plumbing in need of replacement? Triple Service Inc is the trusted name in Mendota, Illinois plumber repiping specialists near you.
Schedule your repiping cost estimate from the repiping specialists today & ensure your plumbing system is running smoothly!
Book Online
Book Online
Plumbing Installation FAQ
Serving Families in the Greater Mendota Area
All Service Areas