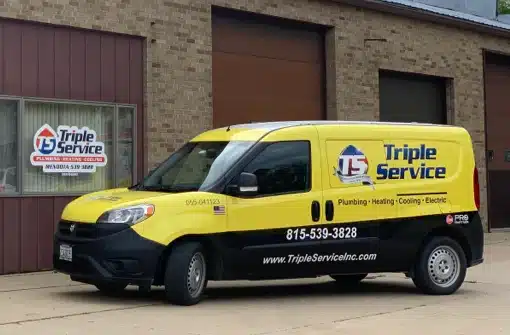 Indoor Air Quality Ottawa, IL
Are you concerned about the quality of your indoor air in Ottawa, IL and the surrounding areas? Do you ever wonder if the air you breathe may be harmful to you? Perhaps you have asthma or allergies and believe that increasing your air quality would make you feel better every day.
If any of these apply to you, or if you want assistance with your Ottawa air quality for any other reason, contact Triple Service now.
Our skilled Ottawa HVAC professionals can assess your air quality and advise you on which of our potential solutions can enhance it. We'll walk you through all of your options to help you choose the best one for you and your family. Reach out now to improve your indoor air quality today!
Book Online
Book Online
Why Choose Us for Your Ottawa Home Service Needs
Upfront pricing - you'll never pay more than you're quoted
Expert advice from professional, licensed & certified technicians
We'll only sell you what you need
Our Ottawa Indoor Air Quality Services
Our team offers a complete line of Ottawa indoor air quality services. From assessing your air to finding the best solutions for your needs, we always have your back. Call on us when you need:
IAQ Assessment
Air Filtration
Air Purification
Duct Repair
Duct Installation
Duct Cleaning
Duct Sealing
Dehumidifiers & Humidifiers
Book Online
Book Online

Signs of Indoor Air Quality Problems in Ottawa
There are several indicators that you may want assistance with your Ottawa air quality. These are some common situations that indicate a need to address indoor air quality issues:
Allergies or asthma that appear to be worse at home or in certain regions of the house
Buildup of dust on chairs and other horizontal surfaces
Stale scents in certain areas or across the house
Humidity issues, such as mold and mildew growth or wood furniture deterioration
There is a lot of new construction or reconstruction in your neighborhood or even in your own home.
If you observe any of these issues, please contact us as soon as possible to see what we can do to improve your indoor air quality in Ottawa and the surrounding regions.
IAQ Assessment
There are several ways to enhance the quality of your indoor air in Ottawa, IL and the surrounding areas. The first step is to test the air quality. Knowing the composition of your indoor air, what's in it, and what's going on with it, allows us to devise the finest methods to enhance it.
Ottawa Air Filtration & Purification
We can assist you with installing a high-efficiency furnace air filter. These have varied levels of filtration, and we can help you find one that will remove more dust and particles from your air without overworking your furnace. There are also whole-home filtration and air purification solutions available. We will collaborate with you to find the best solution for your needs.
Ottawa Duct Repair & Installation
Anything may get into your HVAC system if your ducts are faulty. We'll locate and address the problems quickly so you can breathe fresh air again. We'll also clean out your grates, vents, and other components to ensure that you enjoy clean air for a long time. We can also install new ductwork in Ottawa if you don't have what you need.
Ottawa Duct Cleaning
When you contact us regarding duct cleaning in Ottawa, you may get rid of dust, dirt, mold, mildew, and other contaminants. Our powerful suction technology will suck everything out of your vents, allowing your system to work more effectively and offer you with the clean air you desire.
Improve Your Indoor Air Quality in Ottawa, IL Today!
Call our skilled Ottawa indoor air quality team from Triple Service now! We will get to you soon and resolve your indoor air quality issues ASAP.
Book Online
Book Online
Ottawa Duct Sealing
Duct sealing in Ottawa, IL may be a vital aspect of enhancing your indoor air quality. Over time, your ductwork may develop cracks or leaks, enabling pollutants to enter the air and spread throughout your whole home. Sealing the ductwork can help avoid this, increasing your and your family's overall air quality.
Ottawa Dehumidifiers & Humidifiers
Raising or reducing your home's humidity levels can also enhance the quality of the air you breathe. We can assist you in installing a whole-house humidifier or dehumidifier that will accomplish this automatically so you don't have to bother about it.
Serving Families in the Greater Mendota Area
All Service Areas