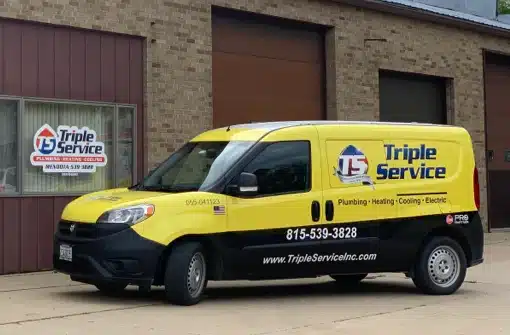 Expert Installation for Your New Heat Pump
Triple Service is your trusted partner for professional heat pump installation in Mendota, IL, and the surrounding areas. As experts in HVAC systems, we recognize the pivotal role that an efficient heat pump plays in maintaining optimal indoor comfort. Whether you're upgrading to a more energy-efficient system or replacing an aging unit, our skilled Mendota heating technicians are here to ensure a seamless and reliable installation process.
With our wealth of experience and commitment to quality, Triple Service is your partner in creating a comfortable, energy-efficient environment for your home or business. Call us today!
Book Online
Book Online
Why Choose Triple Service
Expert advice from professional, licensed & certified technicians
Flexible scheduling - ask about same-day service
Upfront pricing - you'll never pay more than you're quoted
Signs You Need Heat Pump Replacement in Mendota, IL
Recognizing when it's time for a new heat pump in Mendota, IL can be evident from these signs:
Age and Frequency of Repairs: If your aging heat pump keeps needing costly repairs, it might be time for a replacement
Rising Energy Costs: Despite trying to cut back, if your energy bills keep climbing, your heat pump might be the culprit
Uneven Heating and Noises: Uneven heating, cold spots, odd sounds, or strange smells from the heat pump signal potential issues
Costly Repairs: When repairs are forecasted to exceed half the price of a new unit, it might be more cost-effective to consider a replacement
Book Online
Book Online

Choosing the Best New Heat Pump in Mendota
To ensure the best fit for your Mendota home's heat pump installation, consider these tips:
Proper Sizing: Calculate your home's heating needs to choose the right-sized heat pump for efficiency
Energy Efficiency: Opt for a high-rated energy-efficient heat pump to save on long-term energy costs
Cost Evaluation: Assess not only the heat pump's price but also installation expenses for a comprehensive view
Features: Look for features like variable-speed blowers that enhance energy efficiency and home comfort
At Triple Service, we'll help you consider these factors, along with some others, and help you find the best new heat pump to suit your needs and budget.
How Much Does a New Heat Pump Installation Cost?
A heat pump is quite different from your standard furnace or boiler, in that it can heat as well as cool your home. Several factors can determine how much a new heat pump installation will cost, but the type of heat pump you choose has the largest impact. Our expert HVAC technicians at Triple Service Inc will help you narrow down the best heat pump options for your home. The 4 main types of new heat pump installations available are:
Air-Source Heat Pump Installation & Replacement
Typically the most common heat pump to install, air-to-air heat pumps absorb heat directly from the outside air & move it inside to heat your home. Air-source heat pumps can be installed into ductless or ducted systems and are more fuel-efficient than a furnace or boiler, as they lack any combustible components by using electricity to power them.
Geothermal Heat Pump Installation & Replacement
Ground-source heat pump installations require natural heat from the earth to warm or cool your home. Piping is laid under your home that is then filled with water, which is circulated by the heat pump. The water is then heated in the winter (or cooled in the summer) by the earth under your home, which stays at 50 degrees year-round. The warmed or cooled water is circulated to the surface of your heat pump, which in turn heats the air and is blown into your home.
Water-Source Heat Pump Installation & Replacement
Water-to-air systems require access to a well, or other body of water nearby, in order to work. They function similarly to air-source heat pumps, with the exception that it uses a pipe system surrounded by water to extract & dissipate heat rather than through the air.
Mini-Split Heat Pump Installation & Replacement
Another common application of a new heat pump installation is with a ductless heating & cooling system. Mini-split systems can function on their own or they can supplement an existing HVAC system, such as a furnace or boiler.
No matter the problem, our heat pump installation technicians will determine your heating & cooling needs and finances before any work is done, so you will know exactly what solution is best & most affordable for your new heat pump installation.
Schedule a Mendota Heat Pump Installation Evaluation Near You
At Triple Service, we believe that a successful heat pump installation in Mendota is more than just fitting a unit – it's about delivering reliability and peace of mind. Our dedication to excellence means we don't just stop at installation; we ensure that your new heat pump operates at its peak efficiency, providing you with the comfort and cost savings you deserve.
Call Triple Service for your Mendota heat pump replacement or first time installation and experience the difference in quality and reliability that sets us apart!
Book Online
Book Online
Serving Families in the Greater Mendota Area
All Service Areas