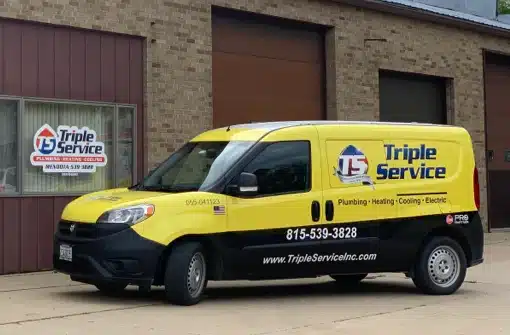 Here for All of Your Heat Pump Installation Needs!
When you need Heat Pump services, trust the experts at Triple Service Inc. Our technicians have the skills, knowledge, and tools to fix most Heat Pump problems on the spot.
When your Triple Service Inc technician arrives at your home they will explain all of your options before starting repairs so you can make informed decisions before any work begins. We service and repair most brands of equipment, so you can trust us to perform a professional Heat Pump job.
We're not happy until you're happy.
Book Online
Book Online
Why Choose Triple Service
Expert advice from professional, licensed & certified technicians
Flexible scheduling - ask about same-day service
Upfront pricing - you'll never pay more than you're quoted
Get the Reliable Heat Pump Experts You Deserve
We offer a full line of installation, maintenance & repair that your home Heat Pump system may require, no matter the problem or time of year. You can count on the trusted professionals at Triple Service Inc for exceptional service & quality craftsmanship.
Book Online
Book Online

How Much Does a New Heat Pump Installation Cost?
A heat pump is quite different from your standard furnace or boiler, in that it can heat as well as cool your home. Several factors can determine how much a new heat pump installation will cost, but the type of heat pump you choose has the largest impact. Our expert HVAC technicians at Triple Service Inc will help you narrow down the best heat pump options for your home. The 4 main types of new heat pump installations available are:
Air-Source Heat Pump Installation & Replacement
Typically the most common heat pump to install, air-to-air heat pumps absorb heat directly from the outside air & move it inside to heat your home. Air-source heat pumps can be installed into ductless or ducted systems and are more fuel-efficient than a furnace or boiler, as they lack any combustible components by using electricity to power them.
Geothermal Heat Pump Installation & Replacement
Ground-source heat pump installations require natural heat from the earth to warm or cool your home. Piping is laid under your home that is then filled with water, which is circulated by the heat pump. The water is then heated in the winter (or cooled in the summer) by the earth under your home, which stays at 50 degrees year-round. The warmed or cooled water is circulated to the surface of your heat pump, which in turn heats the air and is blown into your home.
Water-Source Heat Pump Installation & Replacement
Water-to-air systems require access to a well, or other body of water nearby, in order to work. They function similarly to air-source heat pumps, with the exception that it uses a pipe system surrounded by water to extract & dissipate heat rather than through the air.
Mini-Split Heat Pump Installation & Replacement
Another common application of a new heat pump installation is with a ductless heating & cooling system. Mini-split systems can function on their own or they can supplement an existing HVAC system, such as a furnace or boiler.
No matter the problem, our heat pump installation technicians will determine your heating & cooling needs and finances before any work is done, so you will know exactly what solution is best & most affordable for your new heat pump installation.
Schedule a Heat Pump Installation Evaluation Near You
Is your home heat pump experiencing issues? Triple Service Inc is the trusted name in Mendota, Illinois Heat Pump installation services near you.
Schedule your home Heat Pump installation & replacement cost estimation service today & ensure your heat pump system is running smoothly all year long!
Book Online
Book Online
Serving Families in the Greater Mendota Area
All Service Areas