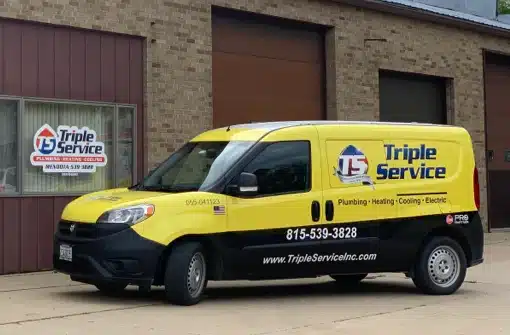 Plumbers Ottawa, IL
When you want the services of a plumber in Ottawa, IL, contact Triple Service. We would be delighted to assist you with any plumbing issues you may be facing. We provide a comprehensive range of Ottawa plumbing services, so we can assist you no matter what is going on.
Call our plumbing company in Ottawa immediately and we'll be there shortly!
Book Online
Book Online
Why Choose Us for Your Ottawa Home Service Needs
Upfront pricing - you'll never pay more than you're quoted
Expert advice from professional, licensed & certified technicians
We'll only sell you what you need
Our Ottawa Plumbing Services
We offer a wide variety of plumbing services in Ottawa . In fact, there's nothing we won't do to help you get your plumbing working well again. Call one of our Ottawa plumbers when you need:
Plumbing Repair
Plumbing Installation
Plumbing Inspection
Frozen Pipe Repair
Bathroom Remodels
Gas Lines
Kitchen Plumbing
Leak Detection
Sump Pumps
Water Heaters
Water Filtration
Water Softeners
Water Wells
Book Online
Book Online

Ottawa Plumbing Repair
Because we understand how important it is for your system to function properly, our staff will perform your plumbing repair in Ottawa, IL as soon as possible. Stop worrying about Ottawa plumbing when our staff is on the job. We can repair your water lines, sewer lines, and everything else in between!
Our Ottawa plumbers perform a wide range of plumbing repairs to maintain, fix, and install plumbing systems in homes, businesses, and other structures. Some of the most common Ottawa plumbing repairs we perform include:
Leak Repairs: Fixing dripping faucets or showerheads, repairing or replacing leaking pipes, and sealing and fixing leaks in toilet tanks or around the base of toilets.
Clogged Drains: Clearing clogs in sinks, toilets, showers, and tub drains using drain snakes or augers, and removing blockages in sewer lines.
Toilet Repairs: Repairing running or continuously flushing toilets, fixing toilets that won't flush properly or have a weak flush, and replacing or repairing toilet components like flappers, fill valves, and flush handles.
Water Heater Repairs: Fixing issues like inadequate hot water, fluctuating temperature, or water heater leaks, and replacing or repairing components like thermostats, heating elements, pressure relief valves, or anode rods.
Pipe Repairs and Replacements: Repairing or replacing damaged or corroded water supply lines, drainpipes, and sewer lines, and addressing burst or frozen pipes during cold weather.
Sewer Line Repairs: Repairing or replacing damaged sewer lines that may cause sewage backups or drainage issues, and detecting and fixing sewer line blockages
Water Pressure Issues: Addressing problems related to low water pressure or excessively high water pressure, and adjusting or replacing pressure-reducing valves (PRVs) to regulate water pressure.
Garbage Disposal Repairs: Clearing clogs or jams, fixing leaks and replacing malfunctioning garbage disposals.
Sump Pump Repairs: Maintaining and repairing sump pumps to prevent basement flooding, and replacing sump pump components when necessary.
Gas Line Repairs: Repairing gas line leaks or damaged gas pipes, and installing and connecting gas lines for gas appliances like stoves and dryers.
Backflow Preventer Repairs: Inspecting and repairing backflow preventer devices to protect potable water supplies from contamination.
Ottawa Plumbing Installation
Call us when you need plumbing installation in Ottawa, IL. We offer a comprehensive range of plumbing installation services to meet the needs of homeowners and businesses throughout the area. Our dedicated team of licensed and certified plumbers in Ottawa has the expertise and experience to handle any project, big or small. Our Ottawa plumbing installation services include, but aren't limited to:
Fixture Installation: Whether you're upgrading your bathroom with a new sink and faucet, replacing a worn-out kitchen garbage disposal, or installing a state-of-the-art showerhead, we have you covered.
Appliance Hookups: We can efficiently connect your dishwasher, washing machine, water heater, and other appliances to ensure they function flawlessly from day one.
Water Heater Installation: Our experts can help you select the right water heater for your home or business and ensure a professional installation, maximizing efficiency and durability.
Sump Pump Installation: Protect your basement from flooding with a top-quality sump pump installation. We'll make sure your home is safeguarded against water damage.
Gas Line Installation: Trust our team for safe and reliable gas line installations, whether it's for a new gas stove, fireplace, or any other gas appliance.
Backflow Preventer Installation: We help safeguard your water supply by installing and maintaining backflow preventers to prevent contamination.
Ottawa Plumbing Inspections
Give us a call if you're concerned about leaking water or sewage. Our Ottawa, IL plumbing check can detect any leaks, even if they are deep within your system and are not visible. We may also assist you in repairing them once we locate them.
Ottawa Bathroom Remodels
Our Ottawa plumbing experts can also help you remodel your bathroom. When you're looking for new solutions or you need someone to help you plan out your dream bathroom, give us a call. We'll be there soon to help you upgrade your bathroom ASAP.
Ottawa Water Heaters
There's nothing we can't do when it comes to your water heater in Ottawa. Get the hot water you need ASAP, whether that involves water heater repairs, replacement, or maintenance. Our Ottawa plumbing team is here and ready to help.
Get Ottawa Plumbing Help Today!
Get help from our professional Triple Service plumbers in Ottawa, IL now. Whether you need something maintained, repaired, installed or replaced, we will be there soon to help you get your Ottawa plumbing working the way you need it to. Call now!
Book Online
Book Online
Serving Families in the Greater Mendota Area
All Service Areas