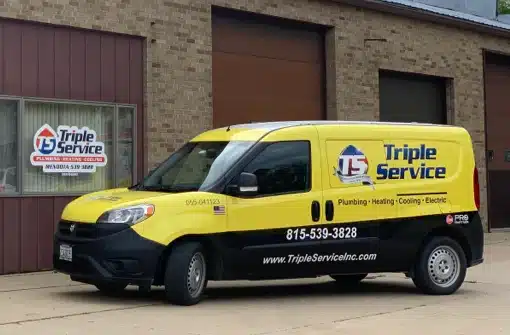 Quick & Reliable Heating Repair
At Triple Service, our main objective is to offer the best Mendota heating services out there. This means that we offer outstanding heating repair in Mendota, IL and will do everything it takes to keep your home warm and comfortable.
If your heating system fails unexpectedly, is no longer functioning correctly, or simply does not keep you warm enough at home, trust us for your Mendota, IL heating repair. We'll find a solution for you right away and send a qualified HVAC technician to your home as soon as we can!
Book Online
Book Online
Why Choose Triple Service
Expert advice from professional, licensed & certified technicians
Flexible scheduling - ask about same-day service
Upfront pricing - you'll never pay more than you're quoted
Common Heating System Problems
When it comes to problems with heating systems, our Mendota heating repair experts have seen it all. Some common heater problems include:
Dirty air filters
Pilot lights that won't light or won't stay lit
Broken blower fans
Broken thermostats
Lack of power to the furnace
Book Online
Book Online

Our Mendota, IL Heating Services
Signs You Need Heating Repair in Mendota, IL
Are you unsure if you need heater repair in Mendota, IL or the surrounding area? Even small performance issues can be clues that your heater needs to be repaired. If you notice any of the problems below, call Triple Service for Mendota heating repair:
Your heater doesn't turn off or turns on and off too quickly
Cold air is being blown by your heater
Your heater is making loud or odd noises
Changing the setting on your thermostat has no effect on your heater
You are too cold inside even though your heating system seems to be working properly
Your monthly electricity bill unexpectedly went up
Our Mendota Heater Repair Process
Our local Mendota, IL heating repair technicians are here to help fix any of your home's heating issues. They are certified and trained in repairing a wide range of heating systems, so no matter what kind of system you have, we can have it working perfectly again quickly.
Call us to begin your heater repair in Mendota, IL. A courteous scheduling staff member will link you to an HVAC specialist with the expertise you require, then establish a time that is convenient for you to meet with that expert.
Our Mendota heater repair technicians are always on time and try their best to put you at ease. We want to know everything about your heating system issues since it gives them a good idea of what is going on and what we should look out for.
We'll evaluate your heater piece by piece after speaking with you. Once we locate the broken component, we'll notify you and walk you through our heater repair process. We'll begin work as soon as you authorize the heater repair and we'll keep you updated throughout the process so you always know what is going on and when we expect to be done.
Once we've finished your heater repair in Mendota, we'll test it before we depart and welcome you to do the same. We won't leave until you're completely satisfied!
Schedule Mendota Heating Repair Near You Today!
When you're dealing with a broken heater in Mendota, reach out to the experts at Triple Service. We'll work with you to make sure we get to you quickly, find the problem, and fix it as fast as we can. Our goal is to help you get your heat back on as quickly and efficiently as possible.
Schedule your heating repair in Mendota, IL with our team to ensure you can stay warm all winter long!
Book Online
Book Online
Serving Families in the Greater Mendota Area
All Service Areas