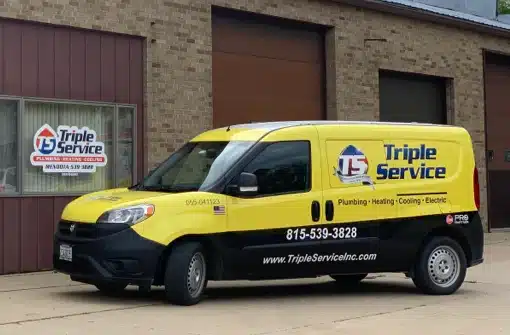 Air Conditioning Ottawa, IL
You can count on Triple Service for timely and effective air conditioning service in Ottawa that will make your house cool again quickly. We have AC professionals that can come to your home right away. Once there, they will identify the issue and apply the necessary remedies as soon as possible. Call immediately and we'll be there shortly!
Book Online
Book Online
Why Choose Us for Your Ottawa Home Service Needs
Upfront pricing - you'll never pay more than you're quoted
Expert advice from professional, licensed & certified technicians
We'll only sell you what you need
Our Ottawa Air Conditioning Services
Our team is standing by, ready to help you whenever you need air conditioning services in Ottawa, IL. We will get to you fast, find the source of your problem, then implement the best possible fix to resolve it. Call us when you need help with:
Air Conditioning Repair
Air Conditioning Installation
Air Conditioning Maintenance
Mini-Split Repair
Mini-Split Installation
Mini-Split Maintenance
Thermostats
Book Online
Book Online

Ottawa Air Conditioning Repair
Call Triple Service right now if you need air conditioning repair in Ottawa, Illinois, or the surrounding area. We will assist you in obtaining any necessary repairs so that you can rely on your air conditioning during the long, hot summer days.
Do not put off contacting us for Ottawa air conditioning repair! If you call us as soon as a problem arises, we can generally resolve it before your air conditioner breaks altogether or suffers significant wear and tear. We would be pleased to help you get your air conditioner up and running as quickly as possible!
Signs You Need AC Repair in Ottawa, IL
Are you unsure whether your problems are severe enough to necessitate Ottawa AC repair? Even if you are unclear if you require assistance, our experts are always eager to investigate. Please contact us if you are having any of the following AC problems. We can help you find the answers you seek.
You're not staying cool at home because your air conditioner cycles on and off fast
Your air conditioner has a leak
Warm or lukewarm air is blown by your air conditioner
Strange noises are coming from your air conditioner
You think your air conditioner is working, but you're still too hot at home
Your air conditioner will not turn off or turn on at all
Ottawa Air Conditioning Installation & Replacement
Are you in the market for a new air conditioner in Ottawa? We will match you with apartments that we feel would be a good fit for you and then leave the ultimate choice to you. Our experts would be happy to assist you in discovering the best options for your specific needs. Call us right away, and we'll be there to help you as quickly as possible.
We'll replace your Ottawa air conditioner after you've decided on a new one. We'll handle everything, so all you have to do is sit back and unwind. In no time, you'll be back to normal at home.
Signs You Need AC Replacement in Ottawa, IL
Here are several indicators that it's time to replace your air conditioner in Ottawa:
Your AC is old: If your AC system is more than ten years old, it may be time for a new Ottawa, IL air conditioning installation. AC systems typically last 10 to 15 years.
Your air conditioner requires frequent repairs: If you're continually having to repair your air conditioner, it can be more cost-effective to replace it.
Every year, the cost of running your air conditioner rises: If your air conditioning system is inefficient, you may be squandering money on your utility costs. A new Ottawa air conditioning installation will give you an energy-efficient AC system that will help you save money in the long term.
How to Choose the Best New AC in Ottawa
If your air conditioner is beyond repair or you want to upgrade to a more energy-efficient model, here are some things to think about while looking for an air conditioning replacement in Ottawa:
Size and capacity: To guarantee best performance and efficiency, select a unit that is adequately suited for your house or company.
Electricity efficiency: Look for units with high SEER ratings to save money on electricity and limit your environmental impact.
Desired features to include: Consider programmable thermostats, variable-speed compressors, and noise-canceling technologies to further increase your comfort and convenience.
Price and budget: Decide how much you're prepared to spend on a new air conditioner and select a model that fits inside your price range.
Ottawa Air Conditioning Maintenance
Did you know that frequent air conditioning maintenance in Ottawa, IL may extend the life of your system? Contact Triple Service to get it serviced if you don't want to change it as regularly. We'll do the job promptly so you can remain comfortable while saving your money for something considerably more pleasurable than a new air conditioner.
Benefits of AC Maintenance in Ottawa
Maintaining your air conditioner is comparable to maintaining your automobile. There are a few components that should be evaluated and changed on a regular basis, and as a result, it should operate better and not cause you the stress and strain of having repairs done on a regular basis. Maintaining your air conditioner in Ottawa, IL benefits you in the following ways:
Spend less money. You will not only have to fix your unit less frequently, but you will also be removing dust and other particles that might make it work harder. We'll clean everything so that air can flow smoothly into, through, and out of your air conditioner. This means you'll spend less money on energy because it'll operate more efficiently.
Use less energy. Your air conditioner needs less power as it functions more efficiently. That is why your bills are getting smaller. If you care about the environment, you should also keep your air conditioner in good working order.
Problems should be identified as soon as feasible. Many AC problems start off modest. If you repair them right away, they won't have time to inflict further damage to your unit.
Ottawa Ductless Mini-Splits
Our team is skilled at working with your ductless mini split in Ottawa, IL, too. We offer repairs, replacements, installations, and maintenance to keep your unit running well and your home at a comfortable temperature all summer long.
Ottawa Thermostats
If your thermostat is the problem or it's time to upgrade to a smart thermostat, give us a call. Our team will get to you fast and help you find the thermostat you need ASAP. We'll install it and make sure it's working well before we leave.
Serving Families in the Greater Mendota Area
All Service Areas