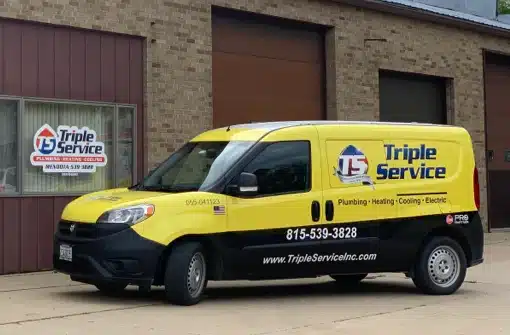 Here 24/7 for Your Air Conditioning Repair Needs
If your air conditioner in Mendota isn't working properly, contact the experts at Triple Service. We've been doing AC repair in Mendota, IL and the surrounding area for over 70 years and would love to help you. Our technicians have the skills, knowledge, and tools to fix most air conditioning problems on the spot.
We're available 24/7 for Mendota air conditioning repair, so call us whenever you need us!
Book Online
Book Online
Why Choose Triple Service
Expert advice from professional, licensed & certified technicians
Flexible scheduling - ask about same-day service!
Upfront pricing - you'll never pay more than you're quoted
Signs You Need AC Repair in Mendota, IL
Even when your air conditioning system is still blowing cool air, there are common warning signs Triple Service Inc knows to look for that indicate there's a problem with your AC, or there will be one soon. If you notice any of the following issues, a problem may be present or incoming, and it's time to call the professionals at Triple Service Inc for AC repair in Mendota:
AC is Blowing Warm Air/Not Cold Air: Is your AC unit blowing warm air, or no air at all, on a hot Mendota, Illinois summer's day? Your home AC may be facing a compressor issue, low levels of Freon, or even a refrigerant leak.
AC is Making Loud, Unusual Sounds: Your home air conditioning system should run quietly, so if you hear hissing, buzzing, banging, or other unusual noises while your AC unit is in operation, give Triple Service Inc a call before it's too late.
AC System is Prone to Excess Moisture & Puddles of Water: If moisture and/or pools of water are accumulating near your home's central AC unit then you may be experiencing a Freon leak or an evaporator coil issue. An evaporator coil issue can cause serious damage to your air conditioner, so call an expert from Triple Service Inc right away to have your home's A/C professionally diagnosed & repaired.
Increased Energy Bills due to Your AC Constantly Running: If you notice a change in how your air conditioner is running, for example, staying on over extended periods of time or not shutting off, you may need your AC repaired. Unsure? One of the first places you'll notice an air conditioner in need of repair is on your  energy bill. AC units in the process of breaking down will work less efficiently & leave a dramatic increase on your monthly energy bill.
No matter the problem, our Mendota AC repair technicians will determine what needs to be repaired before any work is done, so you know exactly what solution is best for your air conditioning system.
Book Online
Book Online

Our Air Conditioning Services
Reliable, High-Quality AC Repair in Mendota & Beyond
We've been working on air conditioners like yours for over 70 years, so we're confident that no matter what's wrong with it, we can get it running again quickly. Our trustworthy Mendota AC repair staff will respond soon and start to work analyzing the problem.
We'll be able to start your AC repair in Mendota, IL after we've discovered what went wrong. We'll keep working regardless of how long it takes since our ultimate goal is your comfort, and we won't stop until we have it.
With our highly-skilled technicians and upfront pricing, you can trust the local experts at Triple Service Inc for 100% satisfaction guaranteed on all of our Mendota air conditioning repair service.
Why Call Triple Service for Your Mendota AC Repair?
We occasionally speak with customer who are unsure if they require AC repair in Mendota, IL or whether it is worthwhile to hire professionals. If you're wondering why you should call us, here are some reasons:
We have over 70 years of experience and can repair any AC problem at any time
We work swiftly, so you can have your air conditioning back up and running in no time
We will not stop until we have identified the root of your AC difficulties, so you will not have to worry about the problem recurring
We keep parts on our truck, so we can generally fix your air conditioner without having to leave and come back
Get the Expert Mendota AC Repair You Deserve
Trust Triple Service whenever you need air conditioning repair in Mendota, IL or the surrounding area. We'll respond quickly and resolve your issues as soon as possible because we know how important it is to have a working air conditioner.
Call for expert Mendota AC repair today and be cool at home again!
Book Online
Book Online
Serving Families in the Greater Mendota Area
All Service Areas