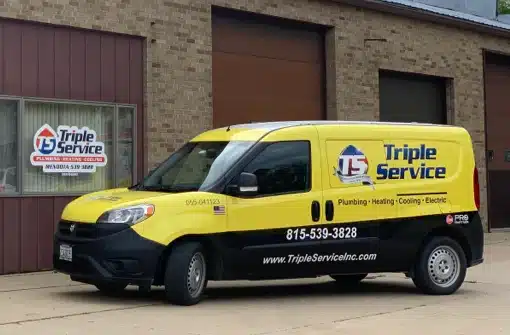 Call Triple Service for All of Your Sump Pump Needs
When you need Sump Pump services, trust the experts at Triple Service Inc. Our technicians have the skills, knowledge, and tools to fix most Sump Pump problems on the spot.
When your Triple Service Inc technician arrives at your home they will explain all of your options before starting repairs so you can make informed decisions before any work begins. We service and repair most brands of equipment, so you can trust us to perform a professional Sump Pump job.
We're not happy until you're happy.
Book Online
Book Online
Why Choose Triple Service
Expert advice from professional, licensed & certified technicians
Flexible scheduling - ask about same-day service!
Upfront pricing - you'll never pay more than you're quoted
Get the Reliable, Best Home Sump Pump Experts You Deserve
We offer a full line of installation, maintenance & repair that your home Sump Pump may require, no matter the problem or time of year. You can count on the trusted professionals at Triple Service Inc for exceptional service & quality craftsmanship.
Book Online
Book Online

Our Mendota, IL Plumbing Services
What are Common Problems of a Failing Sump Pump in Need of Repair?
Even when your sump pump system is still keeping water from pooling in your house, there are common warning signs Triple Service Inc knows to look for. If you notice any of the following, a problem may be present & it's time to call the professionals at Triple Service Inc for a broken sump pump repair:
Sump Pump Running Continuously?
Is your sump pump unit always on, running during all hours of the day & never stops? Your home's sump pump may be facing a stuck float switch, a float switch out of adjustment, or even a pump cord & float switch plugged in separately.
Sump Pump Starts & Stops Too Often?
If your home sump pump is switching on and off many times a minute, it could be a sign that water is coming back into the pit from a pipe discharging water. Best to call the sump pump repair experts at Triple Service Inc before your sump pump problem escalates.
Sump Pumps are Prone to Excess Amounts of Water
If your sump pump motor hums but little or no water flows there could be multiple issues at fault with your sump pump. The issue may be the suction intake screen getting partially or fully blocked, the discharge pipe could be leaking, or the impeller is badly damaged. All of these could be the result of too much stress on your sump pump unit & requires a repair service. Call a Triple Service Inc sump pump repair expert right away to have your home's sump pump professionally diagnosed & repaired.
Does Your Sump Pump Eject Water but Shuts Off Early?
Is your sump pump working for a bit but shutting off before all water is pumped out? You could be facing a float switch that is out of adjustment or has broken down & is not usable anymore. Another cause may be that your pump is overheating and shutting off because of thermal overload. The first thing you can check is ensuring that your sump pump is plugged directly into the outlet with no extension cables. Mendota, Illinois Sump pump units that don't get the proper electrical flow work less efficiently & cause a dramatic decrease in how much water it can pump out.
No matter the problem, our sump pump repair plumbers will determine what needs to be repaired before any work is done so you know exactly what solution is best for your home's sump pump unit.
How Much Does a New Sump Pump Installation Cost
The cost to install a new sump pump in your home will vary depending on what you need. Replacing an existing sump pump is less costly than installing a new sump pump as it does not typically require digging, electrical upgrades or additional plumbing related costs. In addition, there are several other factors that can affect the overall cost of a sump pump installation or replacement:
What Type of Sump Pump Do I Need?
There are two types of sump pump: submersible & pedestal. Each type of sump pump has it benefits & costs so call a Triple Service Inc plumber today to get expert advice on installing the right sump pump for you.
Type of Floor in Your Homes' Basement
No sump pump installed currently? Then a plumber will have to dig a hole in your basement flooring in order to install your sump pump. Gravel is an easy dig but cement or concrete will likely add to the labor costs as well as cleanup costs. At Triple Service Inc, you can expect a full sump pump installation cost estimate so you won't get any surprises before we do any work on your home.
Where Will Your New Sump Pump Be Installed?
Your new sump pump will be installed in your Illinois homes' basement, but where exactly in your basement will factor into your sump pumps' installation cost. Both submersible & pedestal sump pumps are installed differently and have different placement requirements. Don't fret – all of these factors will be reviewed in your sump pump installation estimate.
No matter your sump pump needs, our expert plumbers will determine the best sump pump for you with professional advice on your install before any work is done. You'll know exactly what solution is best at a reasonable cost for your new sump pump; that's our guarantee.
Schedule a Comprehensive Sump Pump Installation Evaluation Near You
Is your home sump pump experiencing issues? Triple Service Inc is the trusted name in Mendota, Illinois sump pump install services near you.
Schedule your home sump pump installation & replacement cost estimate service today & ensure your sump pump unit system is running smoothly all year long!
Book Online
Book Online
Serving Families in the Greater Mendota Area
All Service Areas