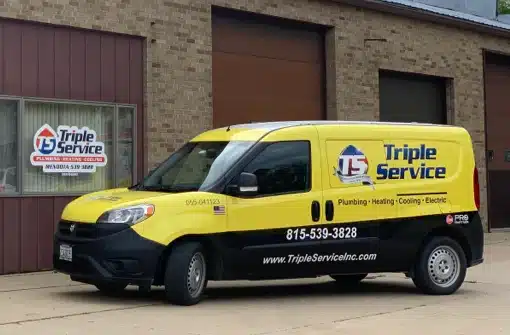 Here for All of Your Mendota Mini Split Repair Needs
When you need mini-split repair in Mendota, IL or the surrounding area, you need it right away. At Triple Service, we know that summer can be relentless here, which is why we promise that our Mendota air conditioning experts will be at your door as soon as possible.
One there, they will listen while you describe the problem with your ductless mini-split air conditioner, then get right to work. Call us for Mendota ductless AC repair today!
Book Online
Book Online
Why Choose Triple Service
Expert advice from professional, licensed & certified technicians
Flexible scheduling - ask about same-day service!
Upfront pricing - you'll never pay more than you're quoted
Trusted Mendota Ductless Mini-Split Repair Near You
Ductless AC systems provide tailored cooling and energy efficiency. However, when components break or wear out, it can lead to discomfort and reduced performance. Timely ductless AC repair in Mendota not only restores comfort. but also prevents further damage to your system and higher repair costs.
Book Online
Book Online

Our Mendota, IL AC Services
Benefits of Our Mendota Ductless AC Repair Services
Rapid Resolutions: Our swift repairs minimize any interruption, ensuring your comfort is swiftly reinstated
Savings Opportunity: Timely repairs thwart additional damage, curbing the necessity for expensive replacements
Enhanced Efficiency: Repairs can boost your system's energy efficiency, translating to reduced utility costs
Extended Lifespan: Well-maintained and repaired systems can enjoy an extended operational duration
Skillful Proficiency: Our technicians possess extensive knowledge of ductless AC systems, providing precise diagnoses and proficient repairs
What are Common Signs of a Ductless Mini-Split Problem?
Even when your home's ductless mini-split system is still heating & cooling your home, there are common warning signs Triple Service Inc knows to look for. If you notice any of the following, a ductless mini-split problem may be present, and it's time to call the professionals at Triple Service Inc for a broken mini-split repair in Mendota or beyond.
Is Your Ductless Mini-Split on But Not Producing Enough Heated or Cooled Air?
Is your home's ductless mini-split unit on but giving off low output? If you are experiencing an issue with just one ductless unit, it may be an electrical problem. However, if the issue is not centralized to one unit, you may have a larger issue at hand, such as a refrigerant leak. If you notice fluid dripping from your ductless mini-split system, call Triple Service Inc right away for a Mendota ductless mini-split repair cost estimate & prevent further damage!
Is Your Home's Ductless Mini-Split System Making Strange Sounds?
If you've had a ductless system installed in your home for some time, you should be familiar with the regular noises it makes. However, if it starts making noises you're not familiar with, such as grinding, bubbling, or clicking, it's time to call Triple Service Inc for a ductless mini-split cost estimate. Depending on the noise, you could be facing any number of issues, so let the experts at Triple Service Inc figure out what's wrong with your ductless mini-split before any work is done!
Unusually High Usage on Electrical Bills?
Ductless mini-split systems are typically viewed as more economical than standard furnaces or boilers. The first place you should notice these savings will be on your utility bills. However, if you're noticing higher-than-usual costs to run your system, this could be an indication there is an issue with your unit and it's likely time for ductless mini-split repair in Mendota, IL. Call in a professional HVAC technician from Triple Service Inc to have your ductless mini-split system examined today!
Comprehensive Mendota Ductless Mini-Split Repair
Is your home's ductless mini-split experiencing issues? Triple Service Inc is the trusted name in ductless mini-split repair services near you. Schedule your Mendota ductless AC repair cost estimation service today & ensure your home's ductless mini-split system is running smoothly all year long!
Book Online
Book Online
Serving Families in the Greater Mendota Area
All Service Areas