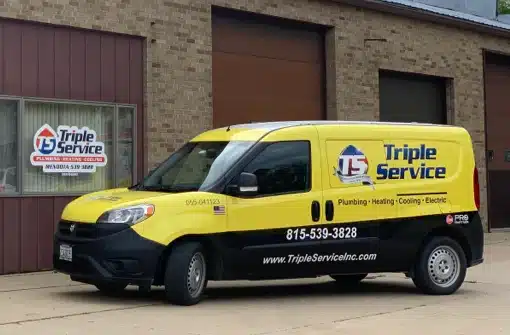 Keeping Your Boiler in Tip-Top Shape
Consistent, regular boiler maintenance in Mendota, IL can help keep your boiler running well for many years. When you call the Mendota heating pros at Triple Service for a boiler inspection and tune-up, we'll test each part of your boiler, clean out any areas where dust or debris have collected, and let you know if we find any problems. If that happens, we'll make sure your boiler is fixed before you need to use it again. 
Call us for your Mendota boiler maintenance and ensure you stay warm and cozy all winter long!
Book Online
Book Online
Why Choose Triple Service
Expert advice from professional, licensed & certified technicians
Flexible scheduling - ask about same-day service
Upfront pricing - you'll never pay more than you're quoted
Do I Need Boiler Maintenance in Mendota?
The short answer: Yes! Just like your care needs to get an oil change and you go to the doctor for a check-up even if you're not sick, your boiler needs routine maintenance. A boiler inspection in Mendota helps reduce the wear and tear on your system and ensures that your boiler operates at peak efficiency. Learn more about why boiler maintenance is so important below!
Book Online
Book Online

Our Mendota Heating Services
Benefits of Routine Boiler Maintenance in Mendota, IL
Maintaining your boiler on a regular basis, at least once a year, has a variety of benefits, including:
Safety: Regular boiler maintenance ensures that your boiler is in safe working condition. Technicians can identify and address potential safety hazards, such as gas leaks or carbon monoxide emissions, before they become dangerous.
Efficiency: A well-maintained boiler operates more efficiently, saving you money on energy bills. Maintenance tasks like cleaning, lubricating, and calibrating components help the boiler run at peak efficiency.
Extended Lifespan: Regular maintenance can prolong the lifespan of your boiler. Addressing minor issues early prevents them from becoming major problems that could lead to boiler failure.
Reduced Repairs: By catching and fixing issues early, you can reduce the need for costly repairs. Routine maintenance helps prevent breakdowns and the associated expenses.
Improved Comfort: A well-maintained boiler provides consistent and reliable heating. You'll enjoy a more comfortable living or working environment without temperature fluctuations or cold spots.
Lower Operating Costs: An efficiently running boiler consumes less fuel, which translates to lower operating costs. You'll save money on your energy bills in the long run.
Warranty Preservation: Many boiler manufacturers require regular maintenance as a condition of their warranties. Keeping up with maintenance can help you preserve your warranty coverage.
Peace of Mind: Knowing that your boiler is well-maintained and safe provides peace of mind. You won't have to worry about sudden breakdowns or unexpected heating problems.
Our Mendota Boiler Maintenance Services
No matter whether you have an electric, gas or water boiler, or a combination model, it is imperative that you leave the maintenance of that boiler to a professional. You need to make sure your boiler is working as effectively and energy-efficiently as possible. It's also important that you have your boiler maintained once a year. This identifies small problems before they turn into costly repairs.
At Triple Service Inc, we have provided Mendota boiler maintenance services for years. We have the expertise you need to make sure your boiler maintenance is performed correctly, and that your system keeps operating as it should.
When a boiler is not properly checked on a regular basis, that can adversely affect its performance and lead to wasted energy and higher energy bills. Even a small adjustment to your boiler system can result in a savings of 10 percent on your bills – potentially hundreds of dollars a year.
Schedule Your Mendota Boiler Maintenance Near You
A boiler tune-up in Mendota can help avoid a variety of costly breakdowns and ensure you stay warm and cozy during the cold Illinois weather. Triple Service is one of the only HVAC contractors in the area that's capable of working on boilers, so reach out to us to schedule your boiler maintenance. We'll help ensure your home boiler system is running smoothly all year long!
Book Online
Book Online
Serving Families in the Greater Mendota Area
All Service Areas