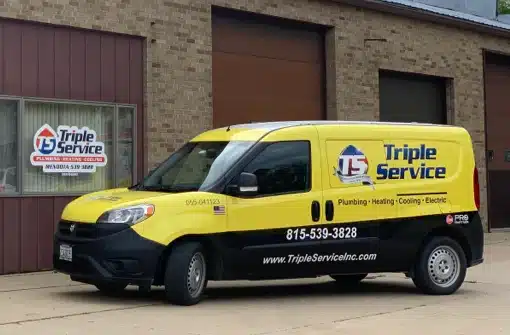 Here for All of Your Mendota Mini Split Maintenance Needs
Regular maintenance is the key to keeping your ductless air conditioning in Mendota operating at its best. When it's time for ductless mini-split maintenance in Mendota, IL or the surrounding area, rely on the experts at Triple Service.
Our licensed HVAC technicians have the knowledge and experience to get and keep your ductless AC system in tip-top shape. Call us today!
Book Online
Book Online
Why Choose Triple Service
Expert advice from professional, licensed & certified technicians
Flexible scheduling - ask about same-day service!
Upfront pricing - you'll never pay more than you're quoted
Reliable Mendota Ductless Mini-Split Maintenance Near You
Ductless AC units, like any mechanical system, require routine maintenance to ensure peak performance. Regular Mendota ductless AC maintenance not only keeps your system functioning smoothly, but it also extends its lifespan, reduces malfunctions, and improves the quality of your indoor air.
Book Online
Book Online

Our Mendota, IL AC Services
Our Mendota Ductless AC Maintenance Process
Our Mendota ductless AC maintenance procedure begins with a comprehensive check of your ductless air conditioning system. To discover potential difficulties, we assess components, connections, and overall system performance.
Cleaning is an essential part of upkeep, so we clean and remove dust, debris, and contaminants that can impair the efficiency of your system. Moving parts are lubricated to guarantee smooth functioning.
Proper refrigerant levels are required for effective cooling, so our professionals inspect refrigerant levels and, if necessary, recharge them to ensure optimal cooling efficiency.
Filters and coils that are dirty might affect efficiency and indoor air quality, so to maintain efficiency, we clean or replace filters and ensure that the coils are free of debris.
Benefits of Our Mendota Mini Split AC Maintenance Services
Improved Efficiency: Routine maintenance ensures that your system performs at top efficiency, saving energy and money
Reliable Performance: Preventative maintenance lowers the likelihood of malfunctions, ensuring that you have reliable cooling when you need it the most
Longer Operational Life: Well-maintained systems can have a longer operational life, deferring the need for replacements
Indoor Air Quality: Clean filters and coils help to enhance indoor air quality by removing allergens and contaminants
Schedule Your Mendota Ductless Mini-Split Maintenance Today
Ductless AC maintenance in Mendota, IL is the foundation of a reliable and efficient cooling system. With our expertise, you can trust us to keep your ductless AC unit in peak condition, ensuring lasting comfort and performance.
Reach out to Triple Service today to schedule your Mendota mini-split AC maintenance and secure continuous cooling comfort for your home or business!
Book Online
Book Online
Serving Families in the Greater Mendota Area
All Service Areas