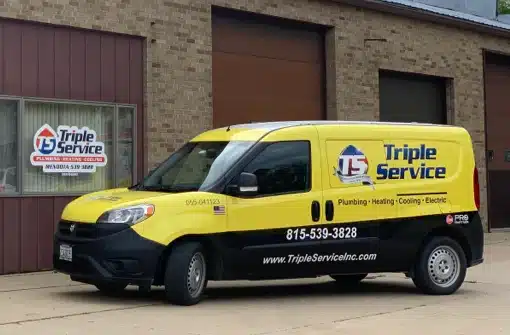 Keep Your Furnace Running Efficiently All Winter Long
Rely on the Mendota heating service pros at Triple Service to keep your furnace running its best all winter long. Regular furnace maintenance in Mendota can also help save you money and increase your furnace's lifespan.  Our furnace tune-up experts will get to you as quickly as possible and ensure that you get the help you need in order to keep your furnace operating efficiently for many years to come.
Schedule your furnace maintenance in Mendota, IL or the surrounding area today!
Book Online
Book Online
Why Choose Triple Service
Expert advice from professional, licensed & certified technicians
Flexible scheduling - ask about same-day service
Upfront pricing - you'll never pay more than you're quoted
Do You Need Furnace Maintenance in Mendota, IL?
It makes sense to consider furnace maintenance in Mendota, IL in the same manner that you would consider body or car maintenance. You go to the doctor for checkups and change the oil in your car, so why not do the same for your furnace? We realize that a proper furnace tune-up in Mendota, IL can put your mind at ease and help you live comfortably throughout the winter.
Call us today and we'll be there as soon as possible. You'll have an efficiently working furnace again before long, and you'll be able to relax this winter!
Book Online
Book Online

Our Mendota Heating Services
Benefits of Furnace Maintenance in Mendota, IL
Before the chill of a cold winter arrives, you want to ensure your furnace is working at 100% efficiency. That is why it's important to have your annual furnace maintenance tune-up from the HVAC experts at Triple Service Inc. Furnace maintenance in Mendota, IL has several benefits:
Ensures peak efficiency of your furnace
Saves heating costs by ensuring top efficiency
Decreases risk of furnace failure
Extends the lifespan through regular furnace maintenance
Maintains the manufacturer's warranty of your furnace unit
Keeps your family safe & comfortable during the IL winter
Our Mendota Furnace Maintenance Process
When the end-of-summer cool-down comes, it's always best to call the experts at Triple Service Inc to take care of your annual furnace tune-up in Mendota. When you have an expert technician perform your furnace tune-up, you can expect the following:
A close inspection of your home's air filter
Checking that your thermostat is in working order
Checking & ensuring that your air ventilation ducts are clear & open
Cleaning of all furnace components including the blower, fan blades & drain line
Lubrication of motor parts within the furnace to avoid costly repair
Inspection of any furnace leaks, cracks, or wear & tear in and around the unit
Ensuring that all electrical components are safe, functional & free of rust or corrosion
No matter the season, our furnace maintenance and tune-up technicians will ensure your furnace is 100% functional and ready for your heating needs. You can expect our experts to notify you of any repair needs before any work is done, so you will know exactly what solution is best for your home's furnace and heating system.
Mendota Furnace Maintenance You Can Depend on
Whenever you're ready to book your furnace maintenance in Mendota, rely on the experts at Triple Service. We'll fine a convenient time to come out and service your furnace and if we discover any issues, we will notify you immediately.
Call us for your Mendota furnace tune-up and make sure you stay warm and cozy all winter!
Book Online
Book Online
Mendota Furnace Maintenance FAQ
Serving Families in the Greater Mendota Area
All Service Areas