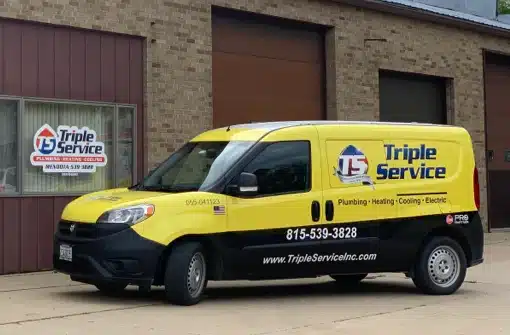 Here for All of Your Water Heater Installation Needs
When you need Water Heater services, trust the experts at Triple Service Inc. Our technicians have the skills, knowledge, and tools to fix most Water Heater problems on the spot.
When your Triple Service Inc technician arrives at your home they will explain all of your options before starting repairs so you can make informed decisions before any work begins. We service and repair most brands of equipment, so you can trust us to perform a professional Water Heater job.
We're not happy until you're happy.
Book Online
Book Online
Why Choose Triple Service
Expert advice from professional, licensed & certified technicians
Flexible scheduling - ask about same-day service!
Upfront pricing - you'll never pay more than you're quoted
Get the Reliable, High-Quality Hot Water Heater Installation Experts You Deserve
We offer a full line of installation, maintenance & repair that your home plumbing system may require, no matter the problem or time of year. You can count on the trusted professionals at Triple Service Inc for exceptional service & quality craftsmanship.
Book Online
Book Online

How Much Does a New Hot Water Heater Installation Cost?
The cost of a brand-new water heater can vary widely depending on the type & size (in gallons) of the water heater. Prices can also vary considerably between the two types of water heaters: traditional tank & tankless. In addition, there are several other factors that can affect the overall cost of a water heater installation or replacement:
What's the Difference Between a Traditional Tank Water Heater & a Tankless Water Heater?
A traditional tank water heater stores gallons of water, so hot water is always available. A tankless water heater will heat up water on-demand, which will save you money in energy costs down the road. Traditional storage tank water heaters are much easier & cheaper to install.
Is Gas or Electric a Better Fuel Source in Homes?
This decision can be heavily dependent on your geographic location & local natural gas and electricity costs. However, it's generally a bit more expensive for a gas water heater than an electric water heater.
What Size Water Heater Does Your Home Need?
Traditional tank-style water heaters can range from 20- to 80-gallon tanks, with 40-gallon being the most common. Keep in mind, the larger the tank, the more costly will be for the unit itself & the heating costs. Let the plumbing experts at Triple Service Inc help you decide which option is best for your home with an installation evaluation & cost estimate today!
No matter what your hot water needs are, our expert plumbers will determine the best water heater type & size for your home with professional advice on your installation before any work is done. You'll know exactly what solution is best & most affordable for your new water heater; that's our guarantee.
Schedule a Comprehensive Home Water Heater Installation Evaluation
Is your home's hot water heater experiencing issues? Triple Service Inc is the trusted name in water heater installation services near you.
Schedule your home water heater installation & replacement cost estimation service today, and ensure your water heater system is running smoothly all year long!
Book Online
Book Online
Serving Families in the Greater Mendota Area
All Service Areas