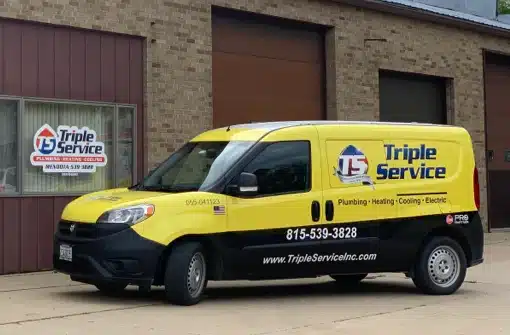 Here for All of Your Water Heater Repair Needs
When you need Water Heater services, trust the experts at Triple Service Inc. Our technicians have the skills, knowledge, and tools to fix most Water Heater problems on the spot.
When your Triple Service Inc technician arrives at your home they will explain all of your options before starting repairs so you can make informed decisions before any work begins. We service and repair most brands of equipment, so you can trust us to perform a professional Water Heater job.
We're not happy until you're happy.
Book Online
Book Online
Why Choose Triple Service
Expert advice from professional, licensed & certified technicians
Flexible scheduling - ask about same-day service!
Upfront pricing - you'll never pay more than you're quoted
What Should You Expect from a Top-Quality Hot Water Heater Repair Service?
We offer a full line of installation, maintenance & repair that your home plumbing may require, no matter the problem or time of year. You can count on the trusted professionals at Triple Service Inc for exceptional service & quality craftsmanship.
Book Online
Book Online

What are Common Signs of a Water Heater in Need of Repair?
Your water heater may still be providing hot water, but there are common issues that Triple Service Inc knows to look for that can be solved with quick repairs. If you notice any of the following, a problem may be present & it's time to call the professionals at Triple Service Inc for a broken water heater repair:
Water Temperature Too Hot or Cold?
Is your gas or electric water heater producing water that is too hot or too cold, or no hot water at all? Your home's hot water furnace may be facing a thermostat issue, or a buildup of sediment.
Water Leaking from the Top of Your Water Heater?
Leaking water could be a sign that your T&P valve has failed, or that an inlet or outlet pipe is loose. Give Triple Service Inc a call before it's too late and the issue becomes more expensive to fix.
Hot Water Heaters are Prone to Rusting
If your hot water heater is producing rusty or brown-colored water this may be a serious sign that the interior of your water heater has corrosion, and a leak is nearly inevitable. Call a Triple Service Inc water heater repair expert right away to have your home's gas or electric water heater professionally diagnosed & repaired.
Smelly Hot Water Being Produced?
Stinky or smelly water coming from your hot water tank is likely due to a high level of bacteria. Smelly water is seen in homes with well water as their primary water source. If unsure, check your water bill to see where your water is sourced. The most common solution is replacement of the anode rod, but it's not limited to just that. Several issues may be present, so it's best to call the water heater repair experts at Triple Service Inc.
No matter the problem, our water heater repair plumbers will determine what needs to be fixed before any work is done, so you will know exactly what solution is best for your water heater.
Call Triple Service Today! We'd be Happy to Answer Your Questions About Water Heater Repair Services
Is your home water heater experiencing issues? Triple Service Inc is the trusted name in Water Heater Repair Services near you.
Schedule your water heater repair cost estimation service today & ensure your water heater unit is running smoothly all year long!
Book Online
Book Online
Serving Families in the Greater Mendota Area
All Service Areas